Institute for Molecular Bioscience researchers will literally travel to the ends of the earth to join a program that will help women lead, influence and contribute to international policy and decision-making.
Dr Anna Vinkhuyzen and Hana Starobova, alongside fellow University of Queensland-based scientists Dr Emma Kennedy, Bianca Das and Dr Karen Aitken (both from the CSIRO offices), were handpicked to travel to Antarctica for the professional development  scheme, Homeward Bound.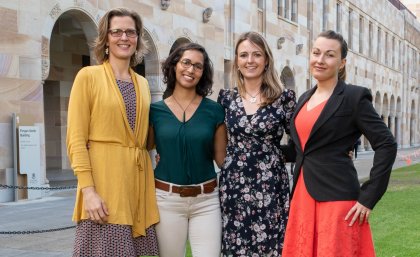 The scheme aims to heighten the influence and impact of women in decisions that shape the planet, offering opportunities to 100 female scientists each year.
Marine ecologist Dr Kennedy said she and her colleagues were honoured to be part of an amazing cohort of ambitious, lauded professionals.
"We're thrilled to be helping to build a trusting, highly skilled, global network of women in science who are looking to disrupt the leadership landscape," Dr Kennedy said.
"This year, 100 of us from 33 countries have had a chance to connect, and we've been getting some coaching in the lead-up to the leadership training we'll receive in Antarctica."
Researchers to tap into expert advice
Homeward Bound aims to improve applied science and to address global issues – particularly environmental degradation.
"On board the ship we're going to have access to some phenomenal coaches and global leaders," Dr Kennedy said.
"UQ-based Antarctic scientist Dr Justine Shaw will be with us, along with Musimbi Kanyoro, President and CEO of the Global Fund for Women.
"Also with us will be the Homeward Bound program founder and leadership expert Fabian Dattner, one of NAB 2016's 100 Women of Influence.
"Beyond on-the-ground science, we'll be working together to build trust, a sense of self and the ability to give and receive feedback," Dr Kennedy said.
"These skills can help us coach peers, increase the strategic visibility of women and help connect and communicate scientific ideas." 
Antarctica set to be a shock to the system
Dr Kennedy said she was counting the days until the 22 November departure.
"I'm so excited but as a coral reef scientist; I'm used to tropical waters, so I'm not sure how I'm going to cope with the cold conditions," Dr Kennedy said.
"Although, of course I'm going to jump in for an Antarctic swim and a dive with the penguins.
"And naturally I've convinced myself I'm going to slip on the ice, fall in and get eaten by a leopard seal!"
Dr Kennedy said she was grateful for the support – financial and otherwise – provided by UQ, particularly from the Global Change Institute, the SAGE Athena SWAN Program and the Faculty of Science.