The history of art at IMB

There has been a culture of celebrating art within the IMB for almost as long as the Institute has existed. When IMB was first founded in the year 2000, one of its very early community engagement initiatives was to run a national art and science competition.

In the years since then, the Institute also hosted an artist in residence, the late Joannah Underhill, who produced a stunning series of artworks that were inspired by studying cells from her own body under a microscope at IMB.
We still honour Jo's memory today, through her art, which is printed on the lanyards that IMB researchers wear every day, and the presentation of 'The Jo Underhill IMB Art Award'.

This annual art competition is held especially for the scientists working within the IMB. It's an opportunity for our staff and students to creatively share the stories of their own scientific research.

And, importantly, it gives them a chance to challenge their own scientific thinking … to explore their innate creativity … and to express it in new ways.

The link between art and science is deliberately nurtured at IMB as creativity is a vital part of the scientific process.
---
Scientific artwork by Joannah Underhill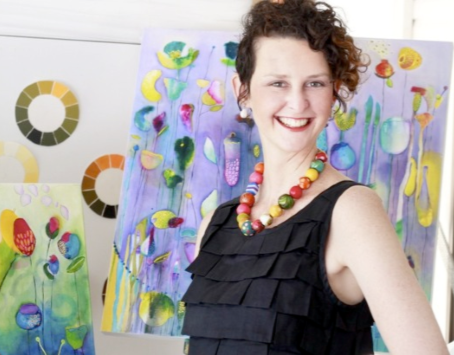 Jo Underhill was an Artist-In-Residence at IMB. With an honors Degree in Fine Art from The Queensland College of Art, Griffith University, Jo combined her artistic experience and playful approach to life through her art. 
In October 2006, Jo was diagnosed with Hodgkins lymphoma cancer. During her battle, she teamed up with researchers here at IMB to understand the molecular changes in her body that occurred during the disease.
"I'm a very visual person, so when I was first diagnosed with cancer, I was trying to imagine what my cells would look like as they changed in response to the disease," - Jo Underhill.
Over several months, Jo studied, sketched and brought her inspirations to life creating more than twenty original artworks. Jo battled with the disease for 8 years, until sadly in 2014 Jo's cancer took her life.
 'Molecular Regeneration' forms part of her artistic legacy and is available to purchase as a print to support research at IMB.
Own a piece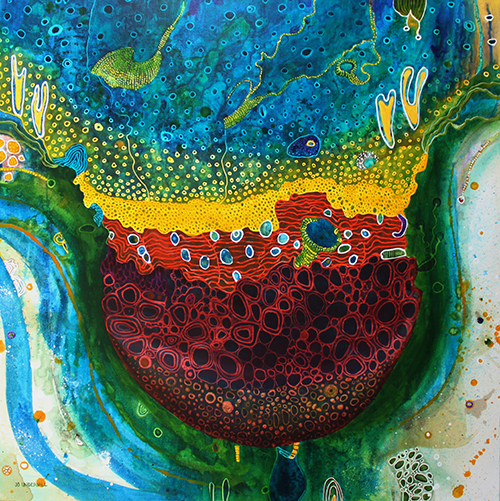 Molecular Regeneration is a visual representation of the potential that all cells have for regeneration.
It was inspired by artist Jo Underhill's exploration and observation of molecular and sub-cellular processes through microscopic images during her residency at IMB.
Purchase a print by former artist in residence Joannah Underhill to raise money for IMB research.
$149
61cm(W) x 61cm(H) on German Etching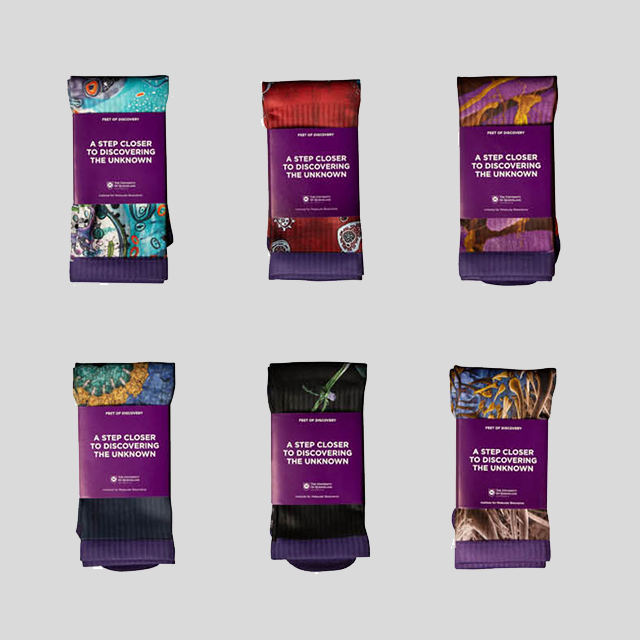 Dress your feet up to celebrate the art of science as we share Feet of Discovery - sock designs inspired by IMB scientific discoveries.
$24.95
---
---
Past competition winners
The annual Jo Underhill IMB Art Award celebrates the intersection of science and art at IMB, and encourages our researchers to creatively share the stories of their research.
Each year we receive a treasure trove of entries to inspire our colleagues, partners and supporters who make our work possible.
2022 winners
"Microbial Marvel" by Jeffrey Mak

Inspired by van Gogh's 'Sunflowers', the colours are intended to evoke optimism and hopefulness, as reflecting the potential of 5-OP-RU (a compound shown to promote antibacterial protection, tissue repair and protect mice from cancer) as the basis of future medicines.
Runner up - Judges' Prize
"Treasure in Venom" by Ken Lai

IMB researchers use molecules found in venom from deadly spiders to create treatments for heart attacks and strokes.
"Erupting Macrophage" by Hongyu Shen

This is an immunofluorescence image of a macrophage by live cell imaging. The cell is expressing Tetraspanin GFP and we are investigating the role of these tetraspanins in the immune response in the hope of reducing inflammation.
'Let me in' by Aline Dantas

One of the challenges of our research is to find ways to assist the entry of small helical peptides into cells.
It is a daunting environment, with membranes that do not let them pass, and proteases that, if they do, chop them up in pieces.

Runner up - Judges' Prize
'Significant Things' by Peta Harvey

This still life is a celebration of the simple objects and basic chemistry that underpin all that comes from the laboratory.
The simple flask, bottle, and precarious round bottom vessel are magnificence hidden in the every-day of the lab bench.

'Fluorescent Antennas' by Charu Deepika

Phycobiliproteins (PBPs) are unique pigments found in cyanobacteria that play an eminent role in photosynthesis serving as a light-harvesting antenna.
They are gaining immense attention as a potential drug for multiple cancer treatments.