Keeping the next pandemic at bay
Keeping the next pandemic at bay
Imagine a world where a simple scratch suffered in the playground turns deadly.
Where the prospect of infection prevents common procedures like heart surgery or hip replacements.
Or even having to weigh up whether the benefits of chemotherapy outweigh the risks.
Unfathomable as it seems, this could be the reality if scientists are unable to check the rise of antibiotic-resistant bacteria – also known as superbugs - and find new drugs to kill them.
Dozens of researchers at UQ's Institute for Molecular Bioscience in Brisbane are focused on this challenge … and Institute Director, Professor Ian Henderson, wants the world to understand exactly what is at stake.
"If you don't have antibiotics, modern medicine disappears. That's why you can't do the surgeries, you can't have caesarean sections. What do you do when your child has an ear infection? What do you do when your mother's got breast cancer but can't have chemotherapy? The reality is that without antibiotics, all the advances that we have to enable people to live longer, just disappear."
Even now, 200 Australians die every week as a result of antimicrobial resistance, with a global mortality rate of 700,000 people every year.
And it's not just the elderly or those with underlying conditions who are vulnerable.
In 2019, mother-of-two Dr Mel White was the fittest she'd ever been, thanks to a regimen of boot camp and cycling. On a holiday in the UK, before taking up a position at IMB, the researcher had a sore throat, and within days was in a fight for her life.
"I developed a fever, I started vomiting and hallucinating and was screaming in agony - the pain was like nothing I'd ever experienced, and I just got sicker and sicker."
Over the next terrifying week, Mel became critically ill. Her kidneys and liver started to fail, and an infection in her foot was spreading. Her medical team discussed amputating her leg to save her life. Her family was called in when doctors weren't sure she would survive.
"Eventually they identified a strep infection – it was in the tissue, the blood and it was in the bones. I had been on antibiotics since I first got to the hospital but they hadn't been working. They tried different combinations of IV antibiotics and eventually found four that seemed to fight the infection and they got me stabilised."
In Mel's case, the bacteria were partially resistant to antibiotics. It took multiple surgeries to remove affected tissue and reconstruct her foot.
"I had to go through massive amounts of rehab and physiotherapy and I spent most of 2020 learning how to walk again. I'm always going to limp, and I have chronic pain, but I have something that kind of looks like a foot and I still have my legs. So that was more than anybody dreamed would happen."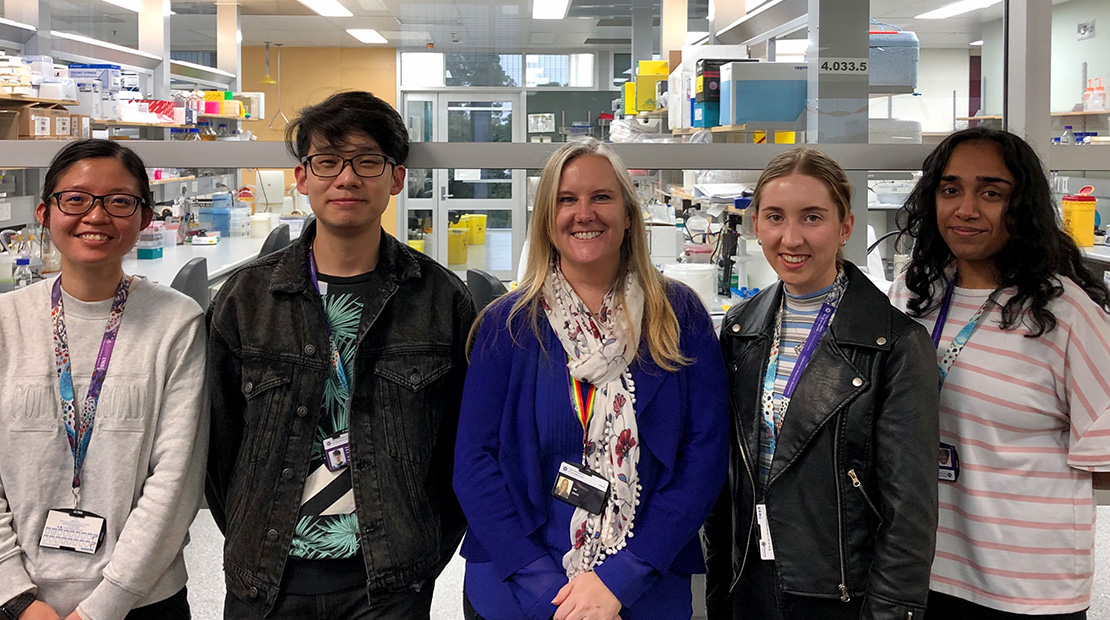 Grim prediction
Without new antibiotics, it's estimated that superbugs will kill 10 million people every year by 2050.
"Three times more people a year will die from antibiotic-resistant infections than have died from COVID. That doesn't diminish the tragedy that is COVID, but that's the reality. It won't be a rapid global spread like COVID – it will be slower, but unstoppable unless we act quickly now."​
IMB's strengths in chemical discovery and its track record of translating research uniquely position it to be at the forefront of a global attack on the problem.
The Institute is home to CO-ADD – the Community for Open Access Drug Discovery funded by The Wellcome Trust - which is helping chemists discover new antibiotics to fight drug-resistant infections.
They're screening compounds from around the world for antimicrobial activity and applying machine learning to pinpoint those with the potential to become antibiotics.
Other weapons being deployed in the fight against these invisible foes include old antibiotics that are being resuscitated and re-designed to combat today's superbugs, and new approaches to treating infection by harnessing our own immune systems.
It's challenging work, but the biggest obstacle to the discovery and development of new antibiotics is the human tendency to complacency and a reluctance by authorities to invest in solutions before an immediate need.
"I don't know how we change that, and until that time the way forward is sitting with academia and institutions such as IMB.
"We can't fix this problem in an instant but we can't wait until the last antibiotic is no good."
As the world fights one pandemic, Professor Henderson and his colleagues continue to prepare for the next.
Help us imagine a better future
Sign up to hear about IMB's breaking research and exclusive events.