We use information about the genome of cells to understand the rules that instruct cells with the goal of disrupting these processes when they go awry in disease
The genetic basis of cardiovascular development and disease
During embryonic development, undifferentiated cells are prompted to make 'decisions' that ultimately direct them to becoming one tissue type or another.
The mechanisms that control genes and gene networks responsible for driving these decisions during cardiovascular differentiation are the focus of Dr Palpant's research group.
Information about changes in a cell's environment are communicated through signals that are complex and very carefully orchestrated. This information instructs the nucleus to express intructions that guide cell decisions.
The transcriptome – or collection of RNA readouts encoding information controlling a cell's identity – changes through development and provides a signature of the function and fate of specific cell types.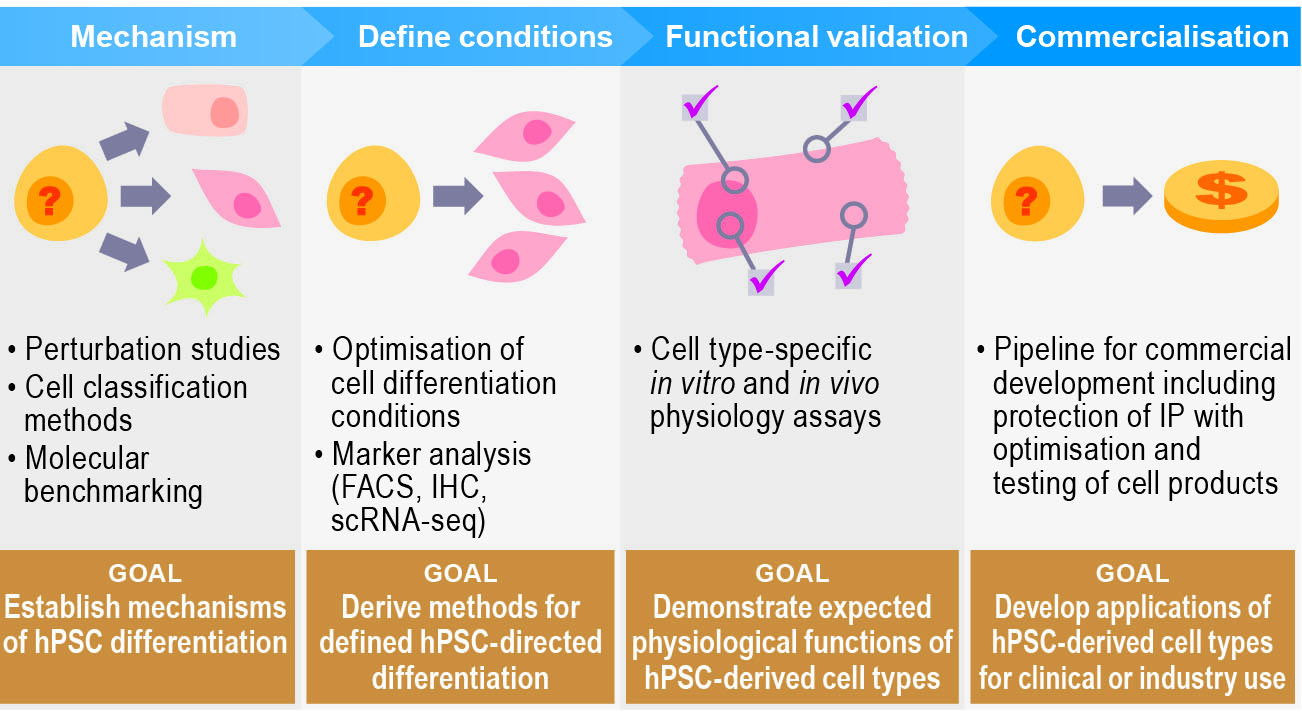 My laboratory uses stem cell science to study fundamental mechanisms of cell differentiation, develop protocols for differentiation into specific cell types, demonstrate that stem cells can function like cell types of the body, that lead to outcomes for delivering stem cells in commercial and clinical applications. Overall, fundamental mechanistic studies feed a pipeline delivering discoveries for impact in industry and clinical translation.
 
We focus on using stem cell biology and single cell genomics to enable major advances in fundamental and translational research using pluripotent stem cell biology.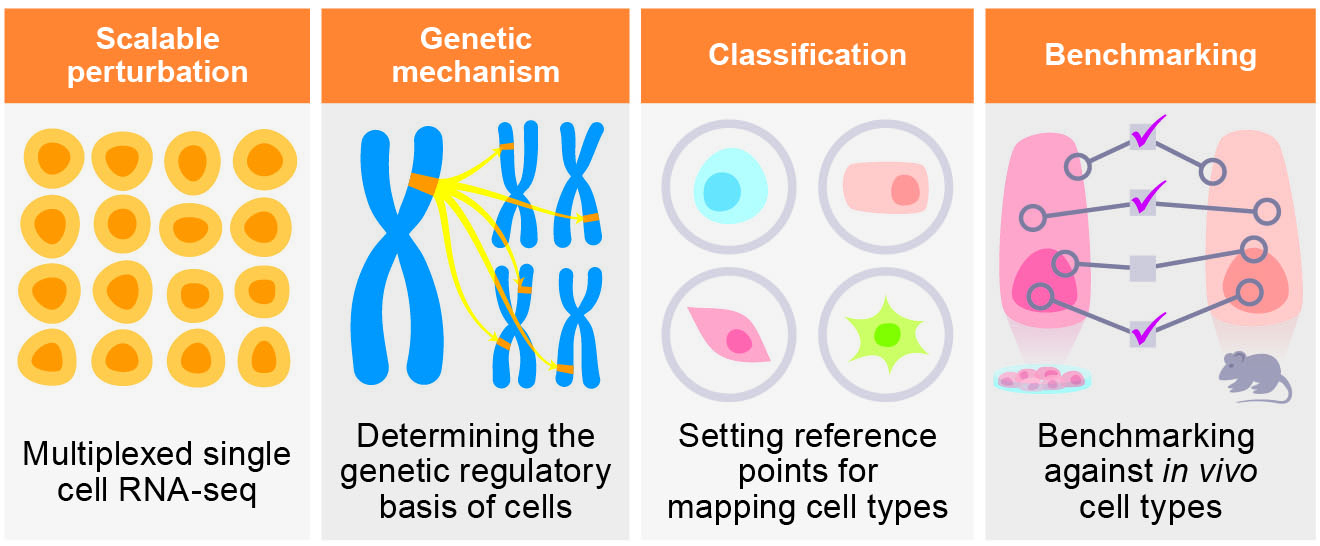 My laboratory aims to accelerate our understanding of how cell decisions are controlled. We design methods for scalable perturbation studies, engineer how the genome controls cell decisions, and develop strategies to study, compare, and manipulate how cells function.
Group leader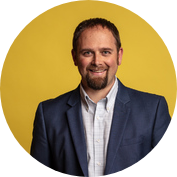 Associate Professor
Nathan Palpant
Group Leader, Stem cells and cardiovascular development
  +61 7 334 62054 
  n.palpant@imb.uq.edu.au
  UQ Researcher Profile
The Palpant lab is comprised of members with a range of career development from honours and PhD students to research assistants and postdocs that enable training at all levels. The lab has diverse areas of expertise including wet lab work on stem cell biology and animal models to dry lab work with expertise analysing large scale genomic data. This diversity provides an ideal environment for interdisciplinary collaborations across the lab that result in high impact papers delivered by members at all levels of training. I am engaged with project design and analysis across the lab and aim to mentor groups to work together on projects to facilitate team involvement while ensuring each member has a clear and distinct project to work on.
Conserved epigenetic regulatory logic infers genes governing cell identity
Woo Jun Shim, Enakshi Sinniah, Jun Xu, Burcu Vitrinel, Michael Alexanian, GaiaAndreoletti, Sophie Shen, Yuliangzi Sun, Brad Balderson, Carles Boix, GuangdunPeng, Naihe Jing, Yuliang Wang, Manolis Kellis, Patrick P L Tam, Aaron Smith, Michael Piper, Lionel Christiaen, Quan Nguyen, Mikael Bodén, Nathan J. Palpant
Acid sensing ion channel 1a is a key mediator of cardiac ischemia-reperfusion injury
Meredith A. Redd, Sarah E. Scheuer, Natalie J. Saez, Ling Gao, Mark Hicks, Jeanette E. Villanueva, Melissa E. Reichelt, Jason N. Peart, Louise E. See Hoe, Han S. Chiu, Xiaoli Chen, Yuliangzi Sun, Jacky Y. Suen, Robert J Hatch, Ben Rollo, Mubarak A.H.Alzubaidi, Snezana Maljevic, Greg A. Quaife-Ryan, Walter G. Thomas, James E.Hudson, Enzo R. Porrello, Gabriel Cuellar-Partida, John F. Fraser, Steven Petrou, Glenn F. King, Peter S. Macdonald, Nathan J. Palpant
Single cell eQTL analysis identifies cell type-specific genetic control of gene expression in fibroblasts and reprogrammed induced pluripotent stem cells
Drew Neavin, Quan Nguyen, Maciej S. Daniszewski, Helena H. Liang, Han ShengChiu, Anne Senabouth, Samuel W Lukowski, Duncan E. Crombie, Grace E.Lidgerwood, Damián Hernández, James C. Vickers, Anthony L. Cook, Nathan J.Palpant, Alice Pébay, Alex W. Hewitt, Joseph E. Powell
We are working with collaborators around the world to make an impact on human health using the most current technologies in computational genomics, genome editing, stem cell differentiation, animal modelling, and drug discovery.
Dr Palpant collaborates widely both in Australia and internationally.
Australian collaborators include:
Mat Francois, Ben Hogan and Kelly Smith from IMB's Genomics of Development and Disease Division in cardiovascular development.
James Hudson (UQ, SBMS) with cardiac bioengineering expertise, Mikael Boden (UQ, SCMB) with expertise in epigenetics, and Joseph Powell (IMB) with computational genomics and single cell expertise.
Dr John Fraser (The Prince Charles Hospital, Brisbane) is a key clinical collaborator for the lab's translational research.  
Collaborators across the network of Australian stem cell scientists, Stem Cells Australia, including Richard Harvey and Cath Suter (VCCRI) and Patrick Tam (CMRI). 
International collaborations include:
Yuliang Wang from the Computational Biology Program at the Department of Biomedical Engineering, Oregon Health Sciences University, USA in Analysis of chromatin dynamics and gene expression in mesoderm progenitor populations.
Jonathan Epstein, Cell and Developmental Biology, University of Pennsylvania, USA in Analysis of HOPX in developmental hematopoiesis.
Irwin Bernstein, of the Fred Hutchinson Cancer Research Center, USA, in Analysis of hematopoietic potential from hESC-derived endothelial populations.
Hannele Ruohola Baker, Institute for Stem Cell and Regenerative Medicine, University of Washington, analysis of genetic regulators of cardiovascular development.
Our Approach
Part of Dr Palpant's interests make use of diverse approaches including stem cell biology and genome engineering to study how they guide cell decisions. He uses information about the genome of cells to understand the rules that instruct cells with the goal of disrupting these processes when they go awry in disease. He also works closely with chemists and physicians to study how cells of the heart respond to stresses like heart attacks and finding new drugs to protect the heart from these injuries.
We're studying cardiovascular development and disease processes in the lab, from the genomic level to tissue-level engineering.
This offers the potential to develop approaches for cell therapeutic applications, model diseases, discover novel drugs, and devise other translational outcomes to address cardiovascular disease, the number-one killer in the world.
Research Areas
Research using human pluripotent stem cells has opened significant opportunities in a number of fields including the study of early human development, developing models of human disease to discover new drugs, generating cell types that could help regenerate injured organs or tissues, and developing complex vascularized functional tissues to understand human physiology.
My lab bridges a wide range of applications with the intent of addressing the single most significant cause of death worldwide, cardiovascular disease.