Confocal 2
Inverted LSM 880 Fast Airyscan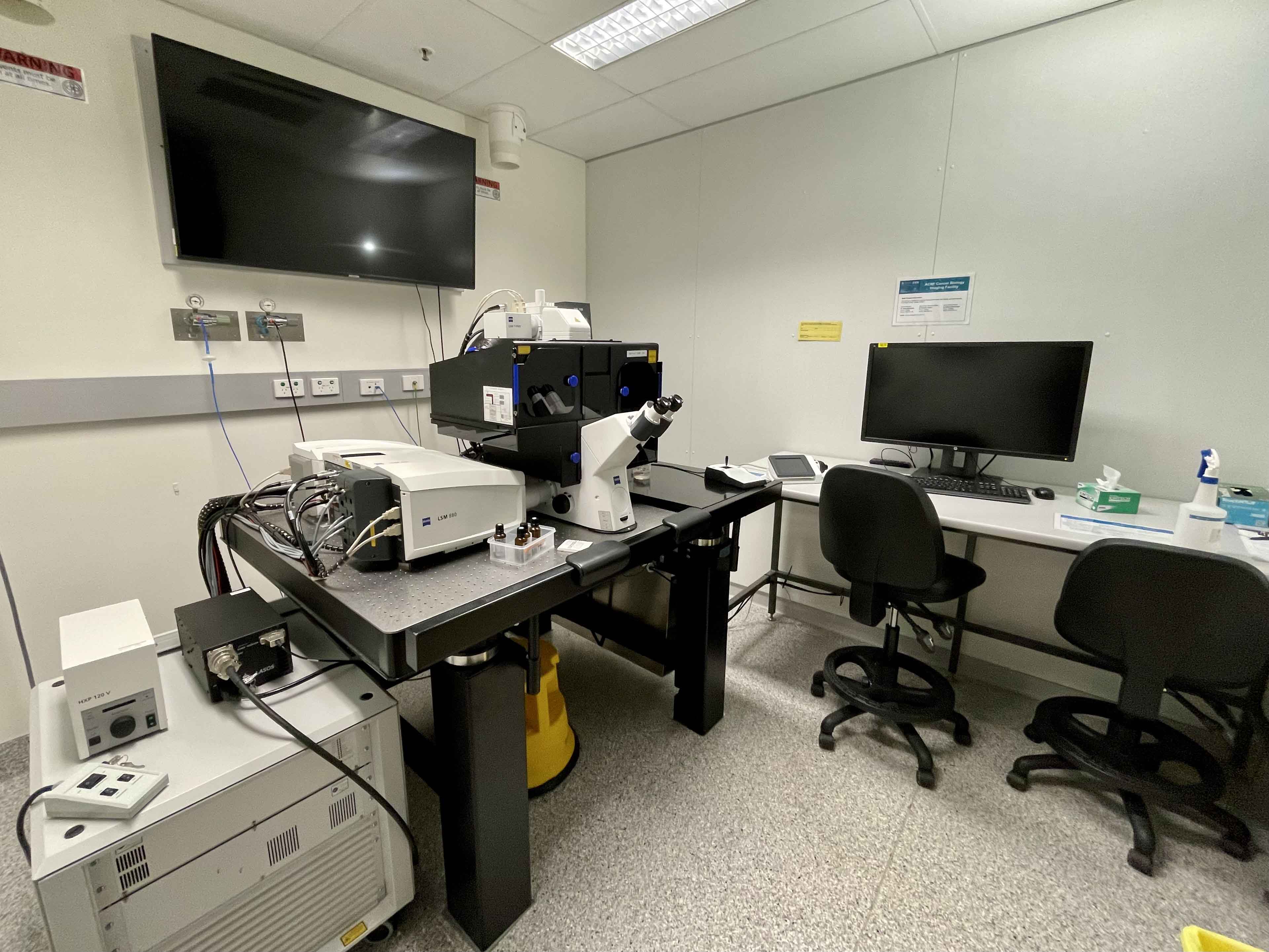 Room 6.029 - Zeiss Axiovert 200 Inverted Microscope Stand with LSM 880 Confocal Scanner with Fast Airyscan Detector
Inverted point-scanning laser confocal microscope with spectral detection.  Suited for imaging fixed samples on slides, samples with low fluorescence, super-resolution Airyscan detection and high-speed live imaging.
Features
Fully motorised X-Y-Z stage
Tiled imaging
Multi-position imaging
Spectral imaging
Airyscan super-resolution
Fast airyscan high-speed imaging
Definite focus
Transmitted Light:  Zeiss 100W Halogen Lamp
Reflected Light:  HBO 100W White Light Lamp
Another new addition to our arsenal is the Zeiss LSM 880 Confocal, installed in April 2018, this system comprises an inverted microscope with full incubation control for live cell imaging and also features Zeiss' Fast Airyscan detector.  The Airyscan in super-res mode uses a honeycomb detector array that is capable of achieving not only greatly improved signal to noise, but will also allow users to achieve down to 120nm resolution without the need for any changes in dyes or staining protocols. The Fast Airyscan component will also allow for fast imaging of a single fluorescence channel with speeds up to 150 frames per second.
Condensor
| | | | | | | | | |
| --- | --- | --- | --- | --- | --- | --- | --- | --- |
| Name | N.A. | W.D. mm | Position 1 | Position 2 | Position 3 | Position 4 | Position 5 | Position 6 |
| - | - | - | - | - | - | - | - | - |
Objectives
| | | | | | | | | |
| --- | --- | --- | --- | --- | --- | --- | --- | --- |
| Position | Objective | Magnification | N.A. | Immersion | W.D. (mm) | Type | Type | Thread |
| 1 | Plan Apochromat | 40x | 1.3 | Oil | 0.21 | DIC | - | M27 |
| 2 | Plan Apochromat | 10x | 0.45 | Dry | 2.1 | - | - | M27 |
| 3 | Plan Apochromat | 20x | 0.8 | Dry | 0.55 | - | - | M27 |
| 4 | Plan Apochromat | 40x | 1.2 | Water | 0.28 | - | - | M27 |
| 5 | Plan Apochromat | 63x | 1.4 | Oil | 0.19 | DIC | - | M27 |
| 6 | Plan Apochromat | 100x | 1.4 | Oil | 0.17 | DIC | - | M27 |
Fluorescent Filter Sets
| | | | | | |
| --- | --- | --- | --- | --- | --- |
| Position | Name | Excitation | Dichroic | Emission | Suitable Dyes |
| 1 | Zeiss #49 HE | 365 | FT 395 | 445/50 | DAPI |
| 2 | Zeiss #47 HE | 436/25 | FT 455 | 480/40 | CFP |
| 3 | Zeiss #38 HE | 470/40 | FT 495 | 525/50 | FITC, eGFP |
| 4 | Zeiss #46 HE | 500/25 | FT 515 | 535/30 | YFP |
| 5 | Zeiss #43 HE | 545/25 | FT 570 | 605/70 | mCherry, Texas Red |
| 6 | - | - | - | - | - |
Lasers
| | | | | |
| --- | --- | --- | --- | --- |
| Laser | Wavelength | Laser Power | BFP Power* | Suitable Dyes |
| 405 | 405nm | - | - | DAPI, Hoechst |
| Argon Ion | 458nm | - | - | CFP |
| Argon Ion | 488nm | - | - | GFP, Alexa Fluor488 |
| Argon Ion | 514nm | - | - | YFP |
| 561 | 561nm | - | - | mCherry, Cy3 |
| 633 | 633nm | - | - | Cy5, A647 |
*BFP = Back Focal Plane of Objective
Computer
Fujitsu PC - 3GHz Xeon Processor - 32GB RAM - 1GB nVidia Quadro GPU
3TB Raid Array
30" LCD Monitor
Software
Zeiss Zen 2012 Black
Accessories
Incubation chamber with CO2 and Temperature control
Mailing address
ACRF Cancer Biology Imaging Facility
Institute for Molecular Bioscience
Level 6N, 306 Carmody Road,
Building 80
University of Queensland
4072, St Lucia,
Queensland, Australia