Scientific artwork by Joannah Underhill
About the artist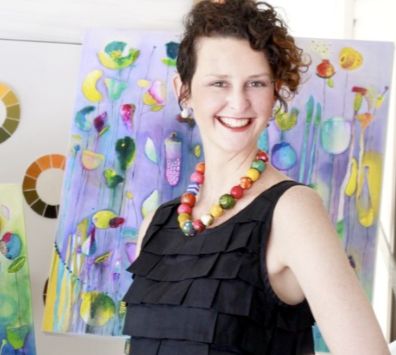 The artwork was created by a previous Artist-In-Residence at the Institute for Molecular Bioscience, Joannah Underhill. With an honors Degree in Fine Art from The Queensland College of Art, Griffith University, Jo Underhill combined her artistic experience and playful approach to life through her art.  In October 2006, Jo was diagnosed with Hodgkins lymphoma cancer. During her battle, she teamed up with researchers here at the Institute for Molecular Bioscience (IMB) to understand the molecular changes in her body that occurred during the disease.
"I'm a very visual person, so when I was first diagnosed with cancer, I was trying to imagine what my cells would look like as they changed in response to the disease," - Joannah Underhill.
Over several months, Jo studied, sketched and brought her inspirations to life creating more than twenty original artworks. Jo battled with the disease for 8 years, until sadly in 2014 Jo's cancer took her life.
 Molecular Regeneration forms part of her artistic legacy and is available to purchase as a print to support research at IMB.
'Molecular Regeneration'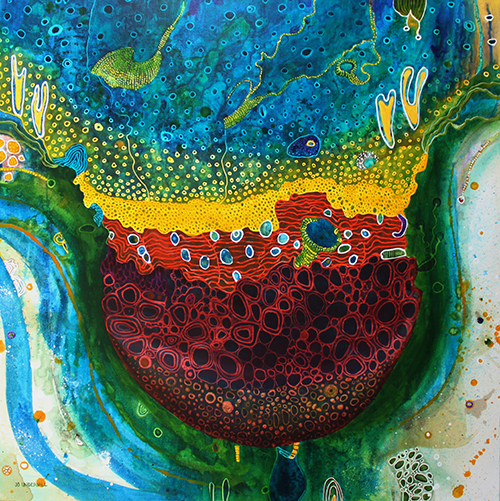 Molecular Regeneration is a visual representation of the potential that all cells have for regeneration.
It was inspired by artist Joannah Underhill's exploration and observation of molecular and sub-cellular processes through microscopic images during her residency at IMB.
Purchase a print by former artist in residence Joannah Underhill to raise money for research at IMB.
$149
61cm(W) x 61cm(H) on German Etching