A leading researcher focused on solving the problem of antimicrobial resistance will bring his expertise to The University of Queensland to help oversee the research of its largest institute.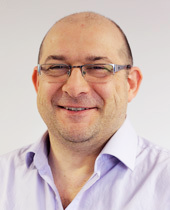 Professor Ian Henderson has been named Deputy Director (Research) of UQ's Institute for Molecular Bioscience, an appointment that will strengthen its existing antibiotic and broader life sciences research programs.
Professor Henderson brings six years of experience as the founding Director of the University of Birmingham's Institute of Microbiology and Infection.
"UQ is one of the top 50 universities in the world and in the top 20 for life sciences, which made joining IMB a very attractive opportunity," he said.
"The fact that IMB hosts the world's leading academic centre for antibiotic discovery, and its access to and investment in imaging, DNA sequencing, chemistry and structural biology were significant factors in making the decision to relocate.
"It is refreshing to see real investment into the facilities that are so essential for progressive research and I am energised by the opportunity that lies ahead."
Professor Henderson said IMB's supportive research culture and strong emphasis on translating science for societal benefit made it the right choice to continue advancing his patient-based work on treating multidrug-resistant bacterial infections.
"When we think of research facilities, networks and excellence in academic research, we must never lose sight of the fact that what we do has a very real impact on the world," he said.
After a recent family visit to Brisbane, Professor Henderson said the family friendly environment, fantastic weather and architectural beauty of the campus cemented his decision.
IMB Director Professor Brandon Wainwright welcomed the appointment of Professor Henderson, who will begin his new position in August.
"The position of IMB Deputy Director is a wide-ranging one responsible for overseeing a broad portfolio and is solely or jointly responsible for IMB's research performance, collaboration, translation, infrastructure, research training, compliance and more," he said.
"Professor Henderson's experience directing a leading research institute within a university, and his strong research program in combating antimicrobial resistance, will equip him well to be an able leader, colleague and collaborator who will help us continue to advance the frontiers of microbiology and life sciences." 
Professor Henderson completed his PhD at Trinity College Dublin then held positions at the University of Maryland and Queens University Belfast. 
He is a Fellow of the Royal Society of Biology and has been a member of expert panels on microbiology and antimicrobial resistance. 
Professor Henderson has also held several positions within the Society of General Microbiology, and has been awarded competitive fellowships including the Universitas 21 Fellowship, the Medici Fellowship and the Royal Society of Edinburgh Enterprise Fellowship.
Help IMB research
IMB newsletters