A physicist and a chemist from The University of Queensland will network with Nobel Prize winners at the 67th Lindau Nobel Laureate Meeting later this month.
Dr Michael Taylor and research higher degree student Andrew White will travel to Germany for the rare opportunity.
Dr Taylor, a Human Frontier Science Program fellow and visiting academic at The University of Queensland School of Biomedical Sciences, said he was thrilled to be meeting some of the world's leading scientists.
"I'm particularly excited that Stefan Hell and William E. Moerner will be there," Dr Taylor said.
"They are two of the 2014 Nobel Prize winners infamous for developing super-resolution microscopy, a technique that allows images to be taken with resolution that was previously thought to be impossible."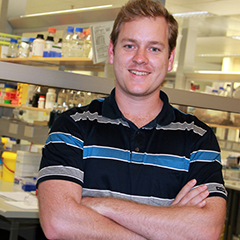 Mr White, of UQ's Institute for Molecular Bioscience, said the meeting would fuel his ideas and research towards designing next-generation therapeutics for obesity and inflammatory disorders.
"I am fascinated to hear the stories of the Noble Laureates and learn how their careers have progressed to receive the pinnacle award in science," Mr White said.
"Having a strong background in structural chemistry, I am especially excited to meet Nobel Laureate Kurt Wüthrich, who is a pioneer of a research technique I use every day to determine the three-dimensional structure of peptides.
"Being able to discuss my research with some of the world's best scientific minds and make new collaborations with up-and-coming research leaders will be both incredibly inspiring and insightful."
The UQ researchers are two of 400 of the world's most talented young scientists invited to the meeting this month to mingle with more than 30 of the world's leading scientists.
Dr Taylor is sponsored to attend the meeting by the Human Frontier Science Program and both he and Mr White are part of the Australian delegation supported by the Australian Academy of Science together with the Science and Industry Endowment Fund (SIEF).
Media: Andrew White, a.white7@uq.edu.au; Gemma Ward, +61 439 651 107, communications@imb.uq.edu.au; Kim Lyell, k.lyell@uq.edu.au,  +61 427 530647.
Help IMB research
IMB newsletters