The quality of research performed at The University of Queensland was recognised at last night's (13 July) National Health and Medical Research Council (NHMRC) Research Excellence Awards in Canberra.
UQ Vice-Chancellor and President Professor Peter Høj said the University was proud of its diverse research programs, and the awards to its researchers were particularly significant.
"The NHMRC Research Excellence Awards recognise some the most important research in Australia, so it's a point of pride for our researchers to be named in these awards," Professor Høj said.
"Competitive funding schemes are so highly contested that simply being awarded a grant is worth celebrating, so it is a great honour for these researchers to be named the best of the best."
This year's NHMRC Research Excellence Awards celebrated competitive grants awarded during 2015, with 17 awards presented.
A total of 5847 applications were received from throughout Australia, and 1030 were funded, for a success rate of 17.6 per cent.
UQ researchers were awarded 92 NHMRC grants, worth $65.2 million in 2015.
The following IMB researchers were recognised at last night's awards:
Professor Kirill Alexandrov: Top-ranked development grant application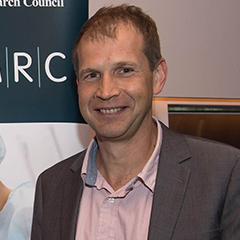 Professor Kirill Alexandrov from the UQ Institute for Molecular Bioscience and AIBN was acknowledged as holding the top-ranked development grant application for his project with Molecular Warehouse Ltd, Point-of-care test for immunosuppressant drugs.
Professor Alexandrov's work aims to assist patients who have had organ transplants.
"Their survival depends on immunosuppressant drugs that need to be carefully administered and monitored to avoid toxicity and organ rejection by the body," he said.
"This work will develop a point-of-care test for patients and clinicians to easily and accurately monitor drug levels at the bedside or at patients' homes to maintain immunosuppressant drugs at their optimal level."
Dr Joseph Powell: RD Wright Biomedical – Level 1 category of the Career Development Fellowship scheme and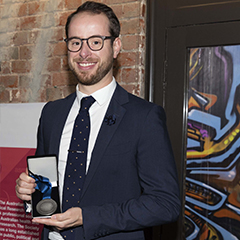 Commonwealth Minister's Award for Excellence in Health and Medical Research
Dr Joseph Powell from the Institute for Molecular Bioscience received two prestigious awards for his investigations into the links between DNA and disease, a mystery which – once unravelled – could have significant international impacts.
Dr Powell's project, Disease genomics: genetic control of gene regulation underlying disease susceptibility, was the top ranked Career Development Fellowship in his category, and led to him receiving the prestigious Commonwealth Minister's Medal for Excellence in Health and Medical Research.
This annual $50,000 award is given to one Career Development Fellowship recipient in recognition of their outstanding achievement in health and medical research.
Dr Powell is the first Queensland researcher to receive this accolade in its 16 year history.
He said that the past decade had seen a dramatic increase in scientists' understanding of the mechanisms by which genetics cause diseases, with research cataloguing thousands of common genetic variants that affect human health.

"Despite this vast amount of data, there are still fundamental gaps in our knowledge, which impede researchers' ability to develop therapeutic solutions," Dr Powell said.
"My team uses sophisticated statistical methodology and super computers to drill down into the data and unlock some of the mysteries around the ways genetic variations predispose individuals to disease."
Media: UQ Communications, communications@uq.edu.au, +61 7 3365 1120.