Give Now  Study with us   Subscribe
---
What did you study in your undergraduate degree?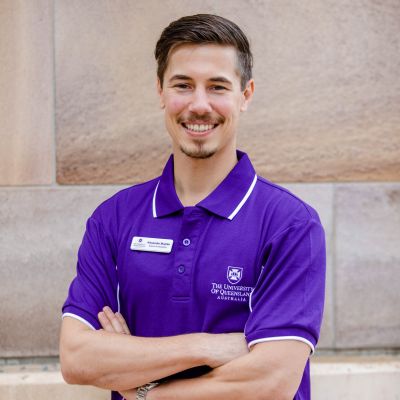 Bachelor of Pharmacy
Why did you choose IMB to undertake your research?
I chose the IMB because it is a dedicated science research institute with world-leading facilities, equipment and technologies, dedicated to improving the health of humanity and placed in a leading research university.
Another reason was that the IMB houses excellent research group leaders at the forefront of their field with in-house as well as national and global collaborations, including industry partners. Most research groups have a strong research output with publications in high-impact journals and showed success in receiving awards, grant and media attention to create positive change in health, medicine and the environment.
Do you have any tips for future students interested in life sciences research?
If you are interested in life science research, it's always great to first do a small research project on a voluntary basis before you start with a postgraduate degree. This will allow you to make a good decision about if you like research or what kind of research you are most interested in. There are many topics and techniques you could focus on during a PhD program. Some are more wet-lab based and others are more computer- and software-based. But you could also focus on science communication or industry engagement during your PhD candidature.
Can you please share a quick description of the research you are currently conducting?
Pain is the leading cause of disability in the developed world with huge socioeconomic impact but remains a very poorly treated condition. Currently used painkillers either lack efficacy or suffer from severe side effects and abuse potential. My PhD project focuses on the discovery, characterisation, optimisation and pre-clinical development of safer and more effective painkillers from analgesic ion channel blockers derived from tarantula venom peptides. I use a high variety of chemical, biochemical, biological, behavioral and high-throughput screening techniques with the aim to develop our lead molecule into an effective and safe painkiller ready for human clinical trials.
What interested you in joining the IMB Science Ambassador Program?
I was interested in joining the IMB Science Ambassador Program because I am passionate about communicating science to the broad public and making it more accessible and understandable for everyone. We do fantastic research at the IMB but sometimes our discoveries never get any media attention or it takes years for success stories to reach the general public. Talking about what we do at IMB at events or during tours in our Institute gives us the chance to showcase our world-class research and the Institute as well.
What do you enjoy doing out of free time?
In my free time, I mostly enjoy doing sports like playing soccer or squash. I also like to go to the gym for regular workouts or go on trips to the beach or for hikes in nature. Physical activities are a great balance after a long day spent planning experiments, trying to troubleshoot and solve problems with failed experiments, analysing data and thinking about your research and the obtained results. I also enjoy going out for a couple of drinks or for some dancing and to socialise with friends. Surrounding yourself with great people is crucial for a more relaxed and successful PhD experience.