IMB staff have been recognised for their outstanding contributions to the UQ community at the 2016 UQ Awards for Excellence ceremony, held on 9 June.
IMB Research Grants Manager Michelle Foley received a UQ Award for Excellence in Service, and IMB's Community for Antimicrobial Drug Discovery (CO-ADD) team received a UQ Award for Excellence in Innovation.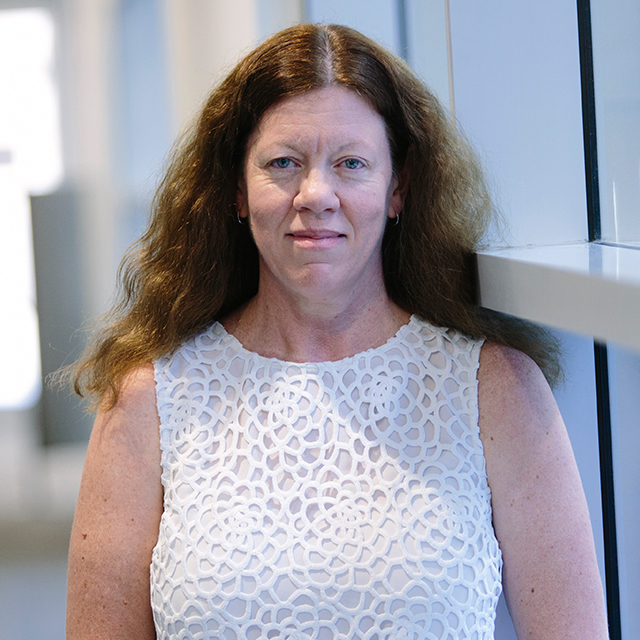 Each year the awards are used to formally appreciate staff who have been at the forefront of notable achievements, and have reflected and support the university's mission and values.
IMB Deputy Director (Research) Professor Jenny Stow congratulated IMB's award winners on their success and thanked them for their hard work.
"At UQ, we take pride in our reputation for excellence, which is made possible by the commitment and outstanding quality of our staff and students.
"Michelle and the CO-ADD team exemplify the IMB spirit of discovery, innovation and translation, and I am proud to see their contributions recognised at this important level."
Professor Stow said Michelle had made an outstanding contribution to the institute during her past decade of service.
"IMB Research Grants Manager Michelle Foley has maintained an exceptional competitive grant success track record for IMB, strengthening UQ's position as a global research leader.
"During the past three years, she has helped IMB researchers shape and deliver the impressive proposals needed to help secure almost $100 million in competitive grants from national and international sources.
"Michelle provides unwavering and professional support to our researchers, giving them more time to discover and translate their world-class research."
Professor Stow congratulated the CO-ADD team for their innovative research and drive to create change for global health.
"The CO-ADD team, which is led by IMB Group Leader Professor Matt Cooper, is an innovative drug discovery project, supported by UQ and the Wellcome Trust, aiming to unite the global academic community in the search for the next antibiotic to fight superbugs.
"CO-ADD collects and screens compounds, which are provided by chemists around the world, against strains of bacteria and fungi that cause life-threatening infections.
"During the past 12 months, the CO-ADD team has received an outstanding 85,000 compounds from 30 countries, has screened more than 40,000 of these and identified over 500 hit compounds with the potential to be the next antibiotic.
"Achieving these results in such a short time is truly impressive and reflects the team's passion and commitment to improving global health through innovative research."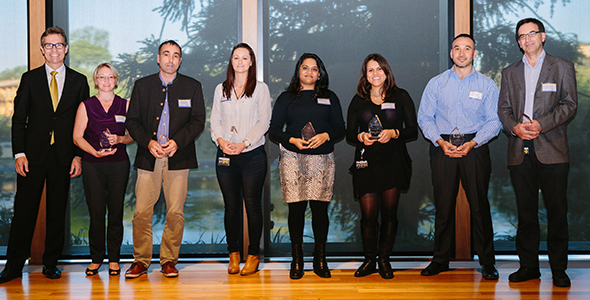 UQ Vice-Chancellor and President Professor Peter Høj with the CO-ADD team, pictured (l-r): Emma Cowie, Dr Johannes Zuegg, Alysha Elliott, Soumya Ramu, Angela Kavanagh, Karl Hansford, Dr Mark Blaskovich. Absent: Professor Matt Cooper, Mathilde Desselle, Ruth Neale
Contact: IMB Communications, communications@imb.uq.edu.au