Scientists from Australia and the UK have completed the most comprehensive analysis yet of pancreatic cancer, in a study that could improve future treatments.
The international study has revealed four subtypes of the disease.
The research team was led by Professor Sean Grimmond from UQ's Institute for Molecular Bioscience and Professor Andrew Biankin from Sydney's Garvan Institute of Medical Research and the University of New South Wales, and included bioinformatician Dr Nicola Waddell from Brisbane's QIMR Berghofer Medical Research Institute.
The analysis used a technique called whole genome sequencing to determine the complete genetic code of pancreatic tumours in 100 patients, with the data published in Nature today (26 February).
The team identified and mapped detailed patterns of 'structural variation' to reveal the extensive and damaging genetic changes that drive the formation of four cancer subtypes.
Professor Grimmond said this gave researchers a deeper understanding of the complex genomic landscape of pancreatic cancer.
"Whole genome sequencing gave us unprecedented access to explore the history of each patient's genome, including how their genes and chromosomes had rearranged and accumulated damage over time," he said.
The identification of four different subtypes meant there was potential to treat each type differently.
"Having access to these detailed genetic maps could help doctors in the future determine which chemotherapy drug a patient should get, based on their cancer's genome."
QIMR Berghofer bioinformatician Dr Nicola Waddell (formerly of UQ IMB) said pancreatic cancer remained one of the most complex cancers to treat.
"Our study identified four major genomic subtypes in pancreatic cancer, revealed two new driver genes not previously associated with pancreatic cancer, and reaffirmed the importance of five key genes.
"These findings could prove promising in diagnosing and treating the disease in future."
Professor Biankin and Professor Grimmond plan to conduct a clinical trial in the UK, selecting patients for targeted treatments based on genomic testing.
Pancreatic cancer is the fifth-leading cause of cancer death in Australia.
The research was supported by the National Health and Medical Research Council, the Queensland Government, the Australian Cancer Research Foundation, Cancer Council NSW, the Cancer Institute NSW, and the Avner Nahmani Pancreatic Cancer Foundation.
This study was conducted by the Australian Pancreatic Genomic Initiative, which forms part of the International Cancer Genome Consortium.
Professors Grimmond and Bianki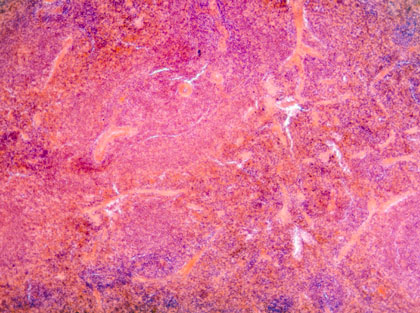 n are now based at the Wolfson Wohl Cancer Research Centre at the University of Glasgow in Scotland.
Interview and photo opportunities are available on request with Professor Brandon Wainwright and Dr Nicola Waddell from 9am-10.30am Thursday 26 February at UQ IMB, 306 Carmody Road, St Lucia.
Media: IMB Communications Manager Gemma Ward, 07 3346 2134, 0439 651 107,g.ward1@uq.edu.au.
Image caption: Pancreatic cancer occurs when damaged, or abnormal, cells grow out of control within pancreatic tissue. Credit: iStock.com/defun.