We dare to understand the molecular to discover the unknown from the infinitely small parts of the world around us. This is where the magic happens!  Our scientists harness this discovery to solve big health and environmental challenges. 
Newstead Brewing Co. are proudly dedicating all profits to UQ's Institute for Molecular Bioscience. Year 2050...we got you!
Over the last 21 years the Institute for Molecular Bioscience has dared to imagine what life might be like if some of the most complex health and environmental challenges are solved. From turning venomous spider venom into medicines which can help the survival rates of patients of heart attack or stroke; to crowd sourcing the search for the next antibiotics made from plants and fungi, dug up from our own backyards. 
Newstead co-founder and Fermentologist Dr Mark Howes completed his PhD at IMB. He took the fusion of art and science inherent in experimentation and applied his learning to beer making, and the rest as they say, is history. As IMB comes of age, Mark has committed to making some Molecular Magic with IMB to spread the word about the amazing research and translational success the institute has had. And how together, it will change the world, one beer at a time.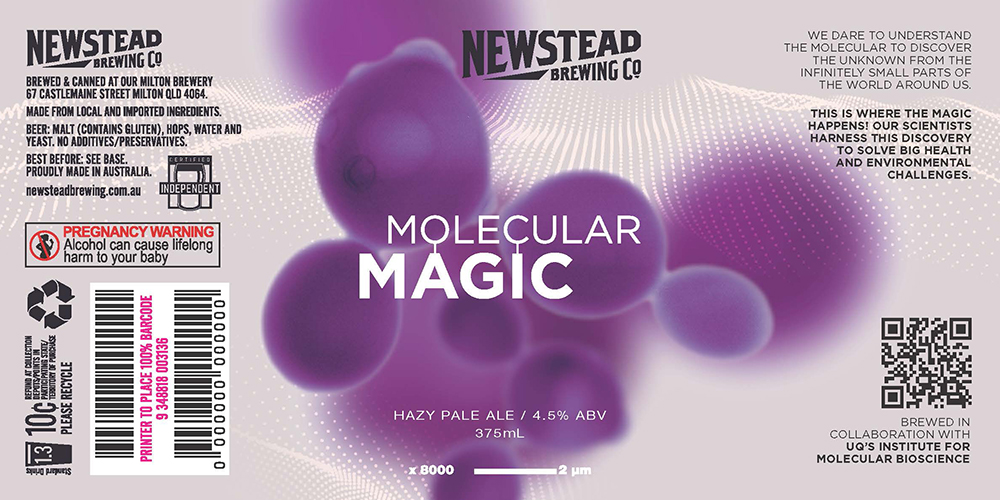 Understanding the molecular is to dare to discover the unknown in the very smallest units that make up organisms or elements. IMB harnesses this to solve global health and environmental challenges. This is where the magic happens! Profits from all beer sales go back into the world-changing research being undertaken, right here in Brisbane.
The beer itself is a modern pale ale. Full of proteinaceous grains, polyphenolic hop compounds and biotransformative yeast. It's tropical, creamy, and refreshing. You can think about it or just quaff along and ponder bigger questions.
The scanning electron micrograph of the New England yeast, on the label, was taken by James at the Parton group, the same lab Dr Howes worked in.
All proceeds from beer sales go back into the life-changing research at IMB.