More effective and less traumatic treatments may become a reality for children with brain and spinal cord tumours thanks to an $80,000 donation from the Brainchild Foundation.
The funds will support a unique brain tumour project led by researchers at The University of Queensland's Institute for Molecular Bioscience.
In Australia there are approximately 200 new diagnoses of childhood brain and spinal tumours each year.
Brain cancer researcher and IMB Director Professor Brandon Wainwright said his team aimed to grow tumour tissue to analyse the genetic make up of a child's tumour.
This information could then guide researchers to develop a targeted treatment program for each patient and their tumour.
"This will allow us to test the tumour tissue first in a laboratory setting to see if treatments are effective before giving that treatment to a patient," Professor Wainwright said.
"Current therapies are based on treating the average child, not the individual child and their unique tumour.
"We will analyse the genetic features of a patient's tumour and use this information to develop individual treatments, which will mean more effective and less toxic therapies for children."
Dr Martin Wood, a paediatric neurosurgeon at Lady Cilento Children's Hospital and co-founder of the Brainchild Foundation, said this research offers the chance to revolutionise the way we provide treatment.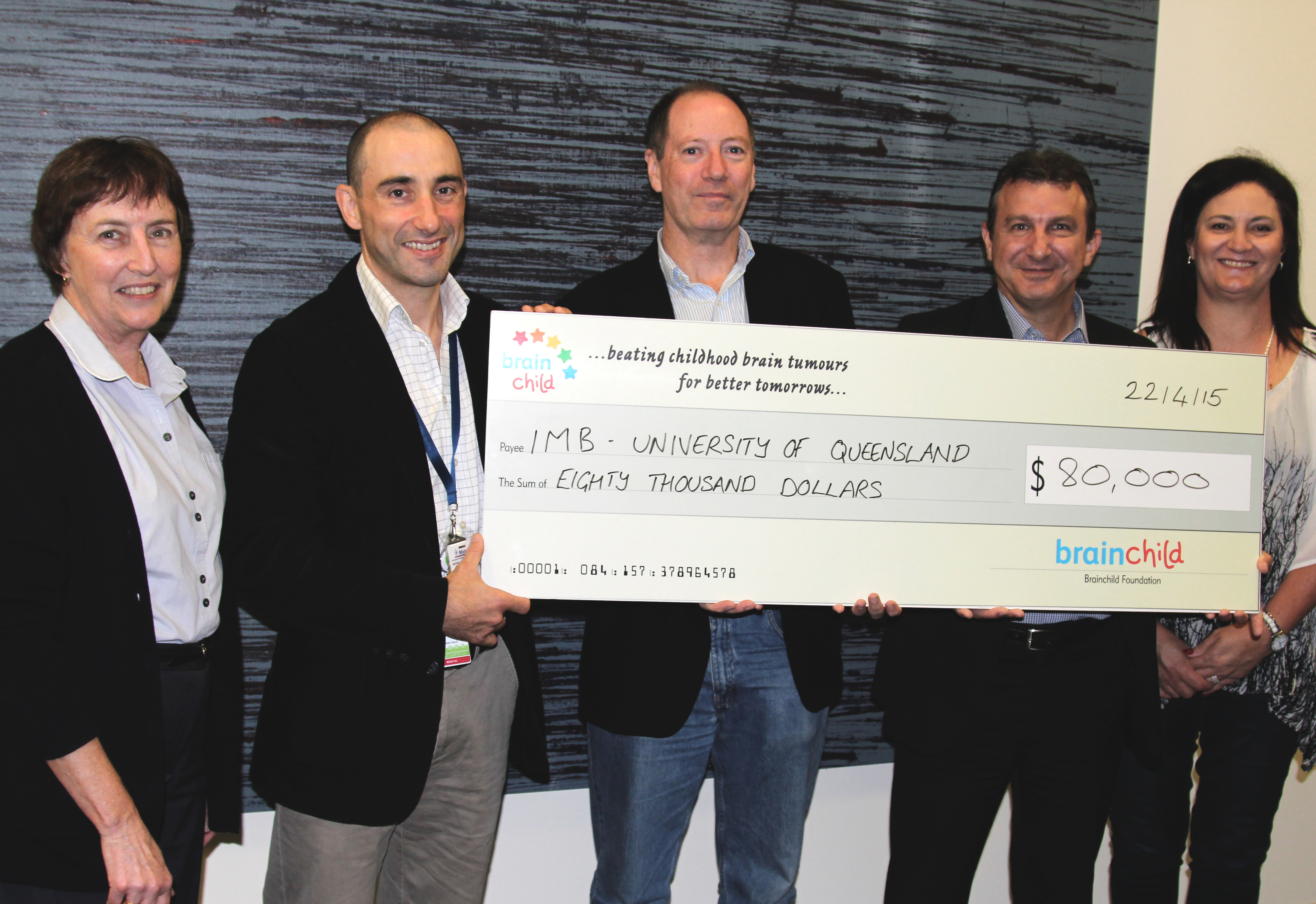 "The prospect offering a personalised treatment for children with brain tumours,  rather than the current 'one-size-fits-all' therapy, is incredibly exciting," Dr Wood said.
"The potential outcomes from Professor Wainwright's research would make an enormous difference to an individual child, to be able to receive a treatment that has been tested and demonstrated to be effective on their tumour in the lab."
"This will mean fewer treatment failures and fewer side-effects, which would be an incredible step forward and an evolution of our approach to treatment.
"Tissue from patients will be obtained by Dr Wood and his colleagues, and provided to Professor Wainwright's lab for processing and implantation.
"We have a well-developed brain tumour banking system based at the Children's Hospital which is available broadly, and I would like to see greater access to this tissue from laboratories around the world in order to address important questions about the biology and optimal treatment of these tumours," Dr Wood said.
The need for research that can transform how children endure treatments for brain and spinal cancer, is one reason Dr Wood was motivated to create the Brainchild Foundation.
"I felt childhood brain tumours were the 'poor cousin' in terms of research funding and activity, compared to other diseases supported by well-established foundations," he said.  
"There were no other dedicated children's brain tumour charities at the time we established the Brainchild Foundation and yet brain tumours in children were, and remain, the most common cause of death from cancer in childhood."
"Working day in, day out with children suffering from brain and spinal cord tumours made it clear to me we have a long way to go in the treatment of these conditions, and in the provision of support to families enduring the treatment journey."
"It would be very rewarding to see this research reach fruition."
Donate to IMB's brain cancer research today.
Media: Kate Sullivan, IMB Communications Officer, 07 3346 2155, communications@imb.uq.edu.au