The Institute for Molecular Bioscience's Professor David Craik has been elected as a Fellow of the oldest scientific society in the world, the Royal Society, for his outstanding contribution to science.
Professor Craik is the second researcher from IMB to be elected to the Society, past Fellows of which include Charles Darwin, Sir Isaac Newton, Sir Stephen Hawking and many Nobel prize winners, such as Australia's Professor Elizabeth Blackburn AC and Professor Barry Marshall. 
At a ceremony in London in June, Professor Craik signed the famous Royal Society Charter Book, which contains the signatures of all previous Fellows and Foreign Members.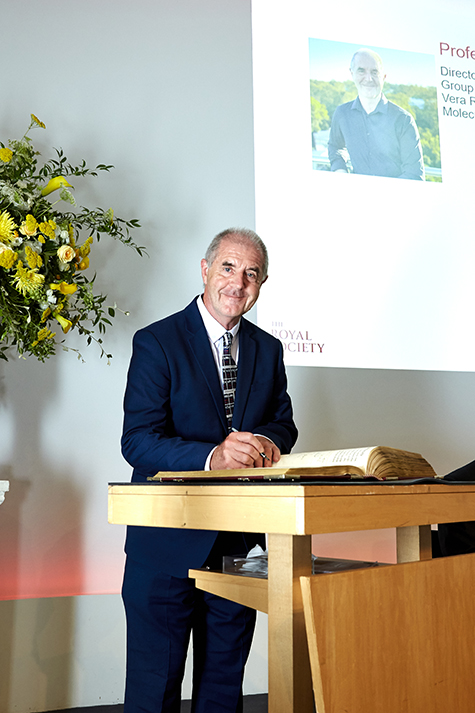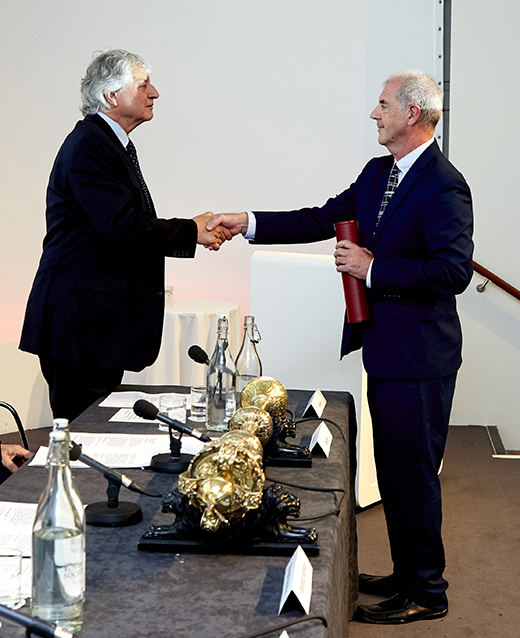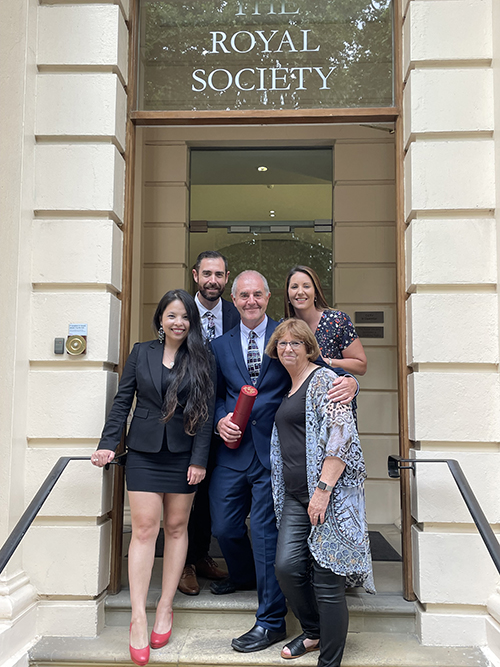 In the early 1990s, Professor Craik discovered a family of circular mini-proteins in plants, which he called cyclotides—these ultra-stable mini-proteins are now revolutionising medicine and agri-chemicals.
Creating bee-friendly pesticides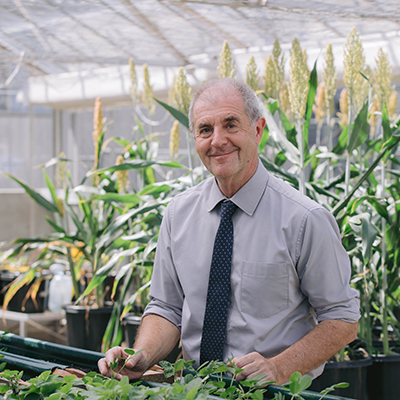 Professor Craik showed that cyclotides are produced by plants such as butterfly pea plants to protect them from pests.
"The really great thing about cyclotides is that they are eco-friendly insecticides that are non-toxic to beneficial pollinators such as bees," Professor Craik said.
The Australian company Innovate Ag has developed a bee-friendly cyclotide-containing product from butterfly pea plants that is approved for the protection of crops such as cotton and vegetables.
"It's so rewarding to see that peptide-based products are having a real impact in protecting Australia's food and fibre crops."
Growing medicines in plants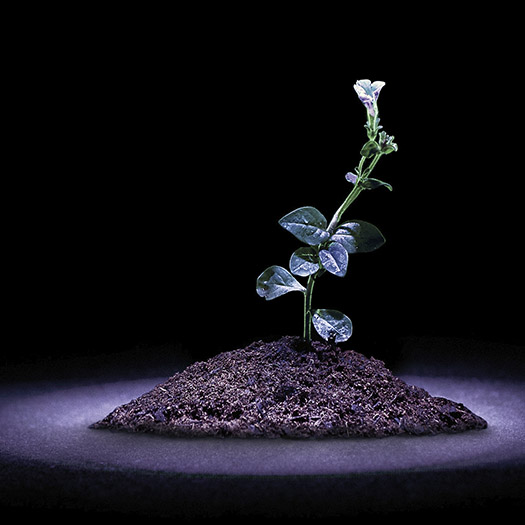 Professor Craik is not just harnessing cyclotides for the protection of bees and plants – he wants to provide low-cost medicines to the world by re-engineering and adapting cyclotides to create new medicines in plants.
"Producing medicines in plants is shaping up as a growth area for the future of health, to treat cancer or pain—in our lifetime, treatment could be as simple as eating a sunflower seed or drinking a cup of tea brewed from designer plants," he said.
"This is made possible by the exceptionally stable structure of cyclotides, which makes them very suitable as frameworks for protein-based drugs."
Heading up the Australian Research Council Centre of Excellence for Innovations in Peptide and Protein Science, Professor Craik intends to accelerate research to discover new proteins and peptides from Australia's diverse flora and fauna, for the benefit of humankind.
IMB now home to two Royal Society Fellows
Professor Ian Henderson, Director of UQ's Institute for Molecular Bioscience, said he was delighted that Professor Craik's contributions to science had been recognised by the Royal Society.
"Professor Craik is known globally as an expert in peptide and drug discovery, and his election as a Royal Society Fellow – which ranks just below a Nobel Prize in terms of scientific prestige – confirms the world-leading nature of his research," Professor Henderson said.
"I am immensely proud that IMB is now home to two Fellows of the Royal Society, Professor Craik and Professor Peter Visscher, a testament to the world-class researchers that we have working here, making breakthrough discoveries to improve health and wellbeing."
Professor Craik says he won't ever forget when he found out about his election as he was having dinner with his wife in a restaurant overlooking the Brisbane River.
"I was stunned—this recognition is something I could never have dreamt of, growing up in the outer suburbs of Melbourne and the first person in my family to go to university.
"It is immensely satisfying that eminent scientists who have inspired me have seen value in my published work, and I was humbled by the congratulations I have received from current Royal Society Fellows while the news was under embargo, including two Nobel Prize laureates."
Only two Australians elected this year to Royal society
Professor Craik is one of two Australians elected this year to the Royal Society, which is made up of the most eminent scientists, engineers and technologists from the UK and the Commonwealth. 
Professor Marilyn Renfree FRS from the University of Melbourne was the other Australian Fellow elected.
UQ scientists elected in past years include Professor Visscher, Professor Ian Frazer AC who developed the human papilloma vaccine and quantum physicist Emeritus Professor Gerard Milburn. 
Professor Craik was elected a Fellow of the Australian Academy of Science in 2013.
First published in May 2021. Updated in July 2022.