Dr Nicholas Condon, one of IMB's imaging scientists, has secured more than $800,000 (US$595,000) to help unlock scientific discoveries by improving the use of big data from Australia's most advanced microscopes.
Dr Condon has received a five-year grant from the Chan Zuckerberg Initiative, which supports imaging experts who help to better understand what causes disease and how to develop treatments.
Watching cells over time
"With recent advances in light microscopy, we are now capturing larger and larger volumes of data than ever before," Dr Condon said.
"We can now watch a cell over a period of time, for example many hours, seeing how it moves and responds to different stimuli, and this creates terabytes of data.
Taking control of big data
"My aim is to speed up and automate processing of microscopy data, using an 'image processing portal'. We are developing tools that speed up mundane tasks, freeing up time for making discoveries."
The Chan Zuckerberg Initiative (CZI) recently awarded $43 million (US$32 million) to support biomedical imaging advances, including technology development.
Dr Condon will assist researchers from many disciplines including biology, chemistry, physics, engineering and ecology to use advanced microscopic methods to answer questions such as how immune cells respond to bacteria and how drugs can be delivered into cells and to create tools to study human pathogens.
"Our vision is for the IMB Microscopy Facility to be the leading biological imaging and image analysis centre in Australia to advance the science and scope of imaging and microscopy.
"This award will really help us advance towards this goal and improve the technology and techniques available to Australian scientists."
Seeing cells move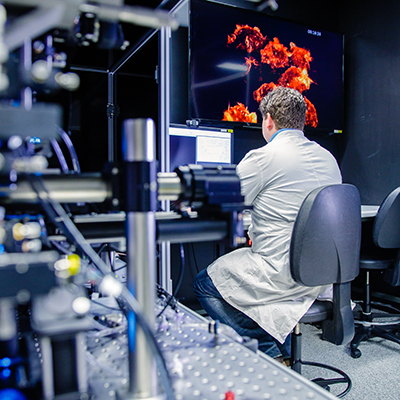 In addition to helping other researchers, Dr Condon uses advanced imaging methods, such as the lattice light-sheet microscope, to pursue his interest in the dynamic membrane environment of immune cells.
He identified a new mechanism for macropinocytosis—how cells drink and eat—which may have implications for manipulating the immune system in disease.
IMB Director Professor Ian Henderson said Dr Condon had successfully established lattice light-sheet microscopy at IMB and spearheaded developments in hardware, software and training.
Accelerating the science
"This initiative conceived by Dr Condon will empower microscopy users to take control of their large datasets, speeding up handling and analysis of big data, and ultimately accelerate the scientific process," Professor Henderson said.
Founded by Dr Priscilla Chan and Mark Zuckerberg in 2015, the Chan Zuckerberg Initiative leverages technology to help solve some of the world's toughest challenges—from eradicating disease to improving education and reforming the criminal justice system.