Cane toad numbers are set to plummet further, thanks to a Queensland Citizen Science grant to the UQ Cane Toad Challenge.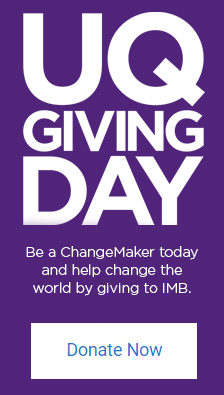 Based at the IMB, the program was established in 2017 by Professor Rob Capon, a chemist who focuses on natural products, after discovering that cane toad tadpoles are drawn to a chemical attractant (pheromone) released by toad eggs.
"We were able to extract the pheromone from adult toads and develop a tadpole bait which we call BufoTabs," Professor Capon said.​
The bait is not yet on the shelves but Professor Capon is working with community groups, schools and councils to set up traps in waterways through the Citizen Science initiative.
"We developed an easy and cheap trap to hold the BufoTabs in shallow water—anyone can make it with a plastic storage box from your local hardware store and a couple of funnels fixed to the sides."
The chemical scent of Bufotabs leaks out of the box and attracts tadpoles from the surrounding water, and they become trapped in the box.
Invading pest out of control
When increasing numbers of cane toads were having a devastating effect on their native fauna and waterways, graziers Nadia and Robert Campbell from Goondicum Station in Central Queensland contacted Professor Capon.
"The Cane Toad Challenge has given us a thorough understanding of how we can be involved and in turn, enabled us to share this knowledge with our neighbours and other community members. As a result, our community has now been able to battle cane toads on a larger scale," Ms Campbell said.
"The Cane Toad Challenge engages the community to be part of the solution in a fun and competitive way. It has empowered the community to participate in science."
Only 100 adult cane toads were released in Queensland just 80 years ago and now hundreds of millions of poisonous cane toads devastate native species across Queensland and the Northern Territory, with advances into Northern NSW and Western Australia.
Community fighting back
By engaging the public in a program of Citizen Science, the Cane Toad Challenge has assembled a volunteer work force of many thousands, who can trial, record and report on the success of tadpole trapping in diverse habitats.
Cane Toad Challenge Affiliates include volunteer or not-for-profit organisations, businesses, schools and city councils—any organisation that shares an interest in cane toad control.
The Queensland Government funding of $30,000 will enable Professor Capon to increase the manufacture and distribution of Bufotabs and allow a research assistant to work directly with Cane Toad Challenge Affiliates to drive the Citizen Science project.
"The Cane Toad Challenge is a great way to inform and empower the public in control of the poisonous and invasive cane toad, and at the same time create an army of volunteers to protect the environment and highlight the practical benefits of science," Professor Capon said.
"Using this funding, the Cane Toad Challenge, with the help of its Citizen Scientists, can dramatically increase its capacity and eradicate millions of cane toad tadpoles from the waterways of Queensland and beyond."