Originally published by UQ Business School on 8th January 2018.
An innovation expert who completed a joint PhD between the Institute for Molecular Bioscience and UQ Business School is set to continue his research at Stanford University after winning a prestigious Fulbright Scholarship to study in the USA. 
Dr David Ireland is planning to use the opportunity to address some of the world's biggest challenges – how to end poverty, protect the planet and ensure prosperity for all.

He will be looking at ways to help people and organisations meet the UN's Sustainable Development Goals, and at the same time build new links between Stanford and UQ.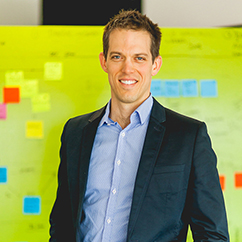 Dr Ireland, a former scientist and start-up founder who is now an innovation consultant, was awarded the Fulbright Professional Scholarship in Non-Profit Leadership – for which just one candidate is selected each year.
The Fulbright awards are a high-profile USA government-backed scheme to encourage exchanges with scholars from other countries.
The scholarship will allow him to spend four months at Stanford collaborating with the world-renowned innovation leader Professor Banny Bannerjee.
Dr Ireland said the UN's Sustainable Development Goals, which were adopted by the UN in 2015 and set out a road map up to 2030, represent an unprecedented challenge.
"The methods we use at the moment are not appropriate for dealing with the complexity, the interconnectedness, the size, and criticality of the challenges that we are facing," Dr Ireland said.
"The Fulbright Fellowship is a fantastic opportunity to collaborate with Professor Bannerjee and work intensely on the project, rather than doing it in my spare time. I'll be surrounded by some of the world's smartest people and will be working on some of the world's most pressing and challenging issues.
"This is also about building strong connections between Stanford and UQ.
"We have already entered into an MOU and it could potentially grow into a significant partnership, with exchange of people.
Ultimately, Fulbright is a chance for me to make a positive impact and make the world a better place for generations to come."
Dr Ireland joins IMB student James Hill in being awarded a Fulbright scholarship in the latest round. 
Help IMB research
IMB newsletters