Repairing damaged heart and vascular tissues will be the unique focus of a new University of Queensland research centre, established to combat cardiovascular disease.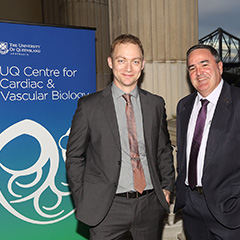 The UQ Centre for Cardiac and Vascular Biology (CCVB) brings together eight laboratories researching cardiovascular development, regeneration and disease.
The centre will be officially launched in Brisbane today (6pm Tuesday 2 May) during Heart Week.
Associate Professor Ben Hogan from UQ's Institute for Molecular Bioscience (IMB), said the CCVB recognises the need for a multi-disciplinary approach to cardiovascular disease, which kills one Australian every 12 minutes.
"These labs have diverse expertise but are united by the common goal of advancing knowledge in cardiac and vascular biology to reveal new opportunities to fight heart disease," Dr Hogan said.
"This is the future of research – experts from different disciplines coming together to make discoveries and pursue them through to clinical outcomes."
Watch the UQ CCVB launch event
In 2015, more than 45,000 Australians died as a result of cardiovascular disease, almost 30 per cent of all deaths.
Professor Wally Thomas from the Faculty of Medicine said the centre could make a difference for those with congenital heart defects and vascular disorders, damaged caused by heart attack and coronary heart disease.
"The university already has an impressive core group of cardiac scientists, and the CCVB will help us to attract and retain world-leading cardiac research talent in Queensland," Professor Thomas said.
"Our research focus on the repair of damaged cardiovascular tissues is unique in Australia and could make a global difference through new knowledge and therapies."
UQ scientists involved in the CCVB published research in March about creating functional human heart muscles from stem cells which have the capacity to regenerate following injury.
The past two Heart Foundation Queensland Researchers of the Year have come from UQ, which also has several Heart Foundation Future Leaders Fellows.
The CCVB includes labs from IMB, School of Biomedical Sciences within the Faculty of Medicine, School of Pharmacy within the Faculty of Health and Behavioural Sciences, and the Australian Institute for Bioengineering and Nanotechnology.
Media: Kim Lyell, k.lyell@uq.edu.au, 0427 530 647; Gemma Ward, communications@imb.uq.edu.au, 0439 651 107.
Help IMB research
IMB newsletters