PhD
A Doctor of Philosophy (PhD) degree allows you to undertake an extensive original research project, guided by an experienced researcher. A PhD fosters the skills you need to develop, conduct and communicate the results of a scientific research program. A PhD also equips you with transferable skills such as leadership, communication, critical thinking and teamwork. These skills allow IMB PhD graduates to secure positions not only in research and academia, but also in industry and government roles.  
To view more information about the PhD program, including entry requirements, application procedures, and scholarship information and deadlines, please visit the UQ Graduate School website.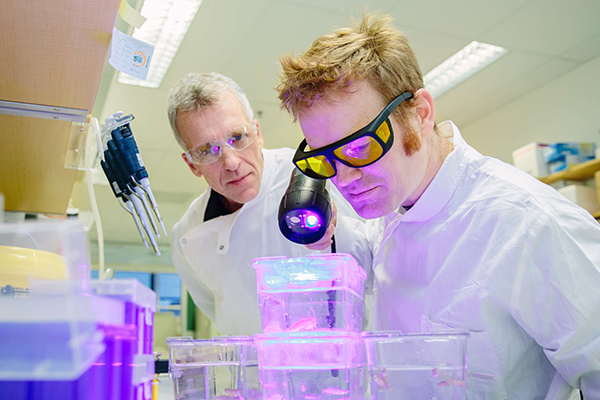 Find out more about the
IMB Global Challenges PhD Scholarship
Why choose IMB for a PhD?
At IMB, you are surrounded by brilliant thinkers dedicated to research, who enjoy the respect of their peers around the globe. You have access to world-leading facilities that allow you to ask and answer the big questions. You benefit from a collegial, supportive environment where translation and entrepreneurship are encouraged and fostered. Finally, you can have a lot of fun as an IMB student!
How to get started
STEP 1 - Contact an IMB researcher
Visit the IMB research group pages to identify supervisors who best match your research interests, and browse a list of potential projects.
Contact your preferred adviser by email, including an academic CV with a brief summary of your educational qualifications, research experience, publications, prizes and other relevant information. Be sure to provide a strong indication of your research interest.
Tips
Be on the lookout for an adviser who attracts significant government funding and/or industry investment.  They should have a reputation for attracting, training and mentoring talented research students. 
Ask yourself the hard questions. What area of science do I find most exciting and do I have the training and grades to convince a supervisor to take me in that field?
Identify and target the one supervisor you want above all others. Read up on their websites and publications and make sure you understand their achievements before making contact. Generic emails to multiple Group Leaders are unlikely to be effective. 
Getting first contact right is critical. If you have the opportunity, pitch your case in person after a seminar, lecture or tutorial. If personal contact is not possible, make your introductory email count by clearly demonstrating that you understand their research and that your experience, ability and interests are an excellent fit.
STEP 2 - Is it a match?
If your potential supervisor perceives a strong research match, they may send you an IMB Expression of Interest (EOI) form to complete, and they will contact your referees.  If the process continues, the supervisor will interview you in person, or by telephone or Skype. They will discuss potential projects, assess your understanding of the research area, and determine your ability to articulate ideas.
Tips
Select referees who are experienced in tertiary education and postgraduate training (i.e. no research students or teaching assistants), and have firsthand knowledge of your academic and research ability. Referees must be able to substantiate the statements they make on your behalf.  For example, if they describe you as 'a brilliant experimentalist', they should provide evidence to support that claim.
STEP 3 - Apply
The formal application process should not start until an IMB Group Leader agrees to support your HDR application and a suitable research project is decided.
You will then be required to complete an IMB Postgraduate Research Project form.
IMB Postgraduate Office staff will contact you to help lodge an UQ On Line Application (OLA), which will be supported by an IMB recommendation.
If you wish to be considered for a UQ competitive, merit-based scholarship simply indicate this on the application form. There is no need to fill out a separate application form.
Once the OLA is lodged, UQ may contact you during the assessment process and will share information via the OLA portal.
Useful information about the documents required for lodging an application and can be found on the UQ Graduate School website.
Tips
Those seeking an HDR placement at IMB are asked to complete the internal process before submitting their OLA.  OLAs without a supporting IMB recommendation will be put "on hold" and the applicant will be advised to commence the IMB process as outlined above.
IMB requires all successful applicants to provide hard copies of original and/or certified documents of all transcripts and conferral documentation at the time of commencement.