The William Jolly Bridge is a blaze of red, yellow and green this week but this image has not come from an art studio or graphic designer.
It is a projection of intricate laboratory images of a blood vessel network as seen under the microscope by cardiovascular researchers at The University of Queensland (UQ)'s Institute for Molecular Bioscience (IMB).
The Heart Foundation has partnered with IMB to project the image in celebration of cardiovascular research and recognition of World Heart Day on Friday 29 September.
Cardiovascular disease kills one Australian every 12 minutes and is responsible for almost 30 per cent of all deaths.
Heart Foundation Queensland Health Director Rachelle Foreman said the light-up was a great opportunity to bring research out of the laboratory and into the community.
"Our cardiovascular researchers are doing amazing work and deserve to have some attention on World Heart Day," said Ms Foreman.
The Heart Foundation is currently funding nineteen cardiovascular researchers in Queensland, including Associate Professor Ben Hogan from IMB, who provided the image from his research laboratory.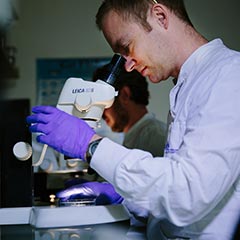 "We are delighted to partner with Heart Foundation Queensland to share with the community the wonder of the amazing images our researchers get to see down the microscope each day," Associate Professor Hogan said.
"By studying how blood and lymphatic vessels develop and spread through the body, we are gaining key insights into cardiovascular development, disease and regeneration.
"Heart Foundation Queensland and its generous supporters have enabled us to identify the genes that control formation of blood and lymphatic vessels, and how we might target these genes to regenerate cardiovascular tissue following a heart attack."
Associate Professor Hogan is also co-Director of the UQ Centre for Cardiac and Vascular Biology, which brings together experts from different disciplines with a common goal of making breakthrough discoveries that will drive innovative clinical outcomes in the future.
IMB is a life sciences institute using life itself to change the world through research on heart disease, superbug infection, pain, inflammation, solar biotechnology and the interplay of genomics and disease.
For information on heart health or research visit www.heartfoundation.org.au or phone 1300 36 27 87.
Media contacts: Heart Foundation - Paula Lazzarini M: 0427 619 589 E: paula.lazzarini@heartfoundation.org.au
IMB Communications - P: 07 3346 2134, 0418 575 247, communications@imb.uq.edu.au
Help IMB research
IMB newsletters