Give Now  Study with us   Subscribe
---
What did you study in your undergraduate degree?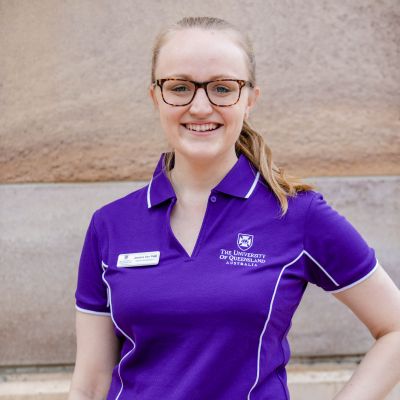 I studied a Bachelor of Science with a biomedical major that the University of Queensland. During my undergraduate years, I became very interested in the topics of biochemistry, immunology, microbiology and nutrition sciences. I completed my Honours project at IMB in immunology with Professor Matt Sweet.
Why did you choose IMB to undertake your research?
IMB is a fantastic institute which covers a very broad range of research focuses. Because of this diversity, there is a highly collaborative environment and facilities established at the IMB, which is very favourable for cutting-edge research. IMB is well established as an institute which values fundamental research, and the translation of this research, which is important for ensuring excellent science is not only performed, but is able to have impact in society.
Do you have any tips for future students interested in life sciences research?
Life sciences research is definitely a complicated line of research, and requires a lot of trans-disciplinary knowledge. I would strongly recommend that you learn as much as you can about different fields of life sciences.
What research are you currently working on?​
E. coli is a major contributor to the incidence of urinary tract infections, affecting one in two women and one in 10 men in their lifetime. Due to their prevalence, urinary tract infections are a major contributor to antibiotic prescription worldwide. Antibiotic resistant pathogens currently pose a major threat to global human health, and we therefore need to develop new therapies for infectious diseases like urinary tract infection.
The human innate immune system provides primary defence against invading pathogens. Cells of the innate immune system, such as macrophages, are able to unload a variety of killing mechanisms to destroy invading pathogens. My project aims to understand how some of these innate immune cells can use zinc ions as a killing mechanism for this type of E. coli. We hope that understanding these killing mechanisms will assist in the development of new therapeutics for infections such as urinary tract infections.
What interested you in joining the IMB Science Ambassador Program?
I joined the IMB Science Ambassador Program as I am very passionate about communicating science and research to the public. Furthermore, I am excited about promoting the cutting edge science which is being performed at the IMB. I am also very excited to be working with the inspiring IMB Ambassadors on the overall goal of directly advocating the research at IMB by helping at events.
What do you enjoy doing out of free time?
I have a few hobbies in my spare time, including ballet, cooking and gardening. On my weekends, I enjoy bush walking and reading novels in the sunshine!