Tracking the growth of brain cancers non-invasively in real time will forge ahead thanks to a donation from the Brainchild Foundation to UQ researchers.
Brain cancer kills more children in Australia than any other disease, but just as concerning, the invasive and toxic treatment to overcome the cancer often leaves the patient with neurological impairment across their lifetime.
Professor Brandon Wainwright and Dr Tim Hassall from UQ's Institute for Molecular Bioscience are developing a less-invasive biopsy that can detect DNA in patients' spinal fluid that has leaked from tumours.
"One of the most important and exciting breakthroughs in cancer research recently has been the knowledge that tumours secrete DNA," Professor Wainwright said.
"We can get a more accurate picture of how a patient is responding to their therapy by looking at their DNA, allowing us to easily track the progress of their cancer and alter their treatments accordingly."
"Until recently, the only way to get genetic information about a cancer was to take a biopsy of the tumour tissue, a very invasive operation particularly for brain cancer patients."
This 'liquid biopsy' can be obtained by doing a lumbar puncture— a routine test which could be performed several times during a brain cancer patient's treatment.
Professor Wainwright explains how liquid biopsies will help brain cancer treatments.
Dr Hassall, also a neuro-oncologist at Queensland Children's Hospital, said the finding is significant for patients, with the potential to eliminate the need for biopsies and enhance their treatments.
"This finding is incredibly important because it introduces the potential to watch, in real time, the response of tumours to therapy, whether it is medications, radiotherapy or chemotherapy, without having to go into the brain itself," Dr Hassall said.
"The generous support from the Brainchild Foundation will enable us to pilot this study here in Brisbane, and ultimately we'll be able to use this information to design new and innovative clinical trials."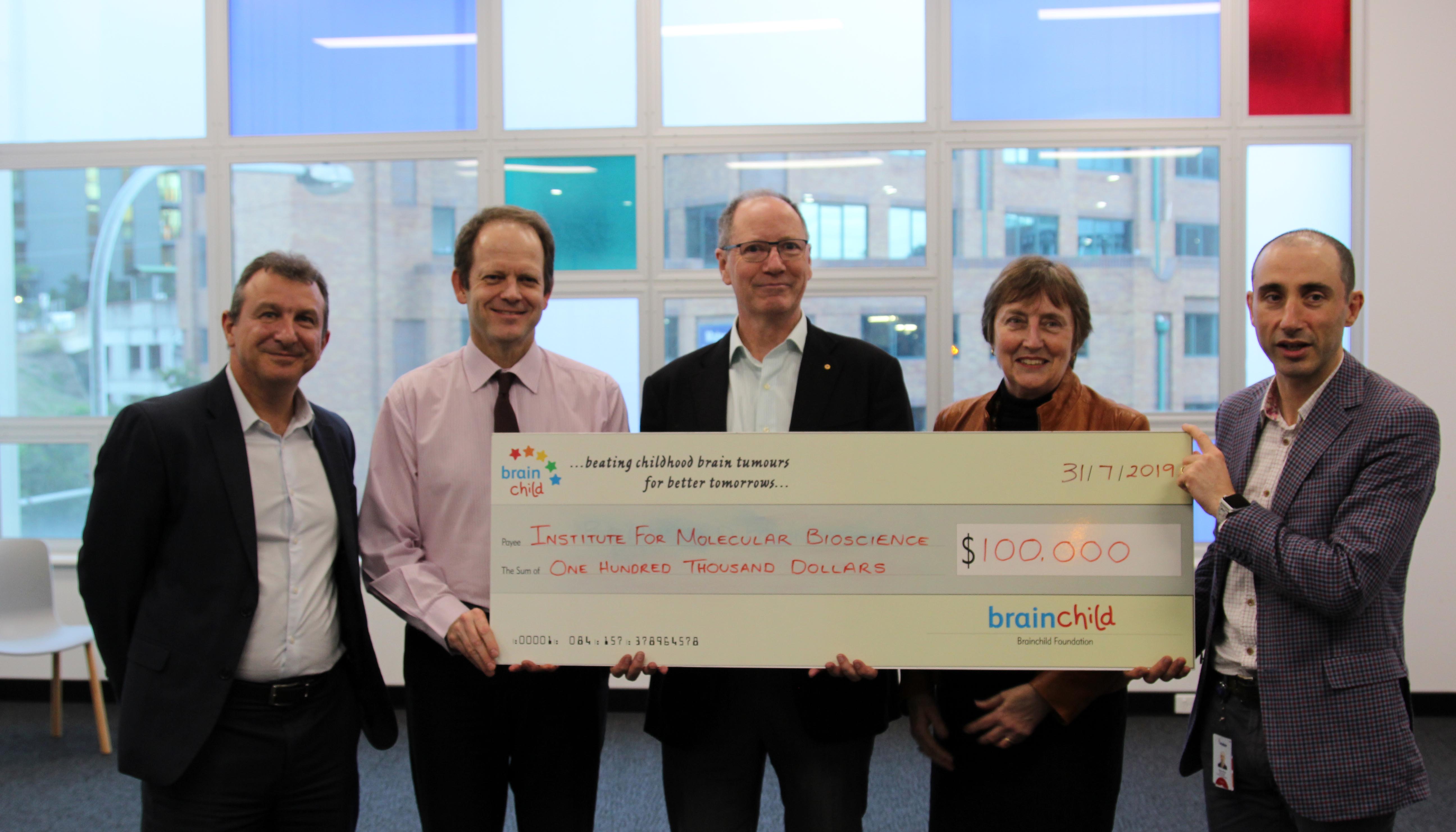 Brainchild Foundation board member David Brunoli has had a personal journey with brain cancer since his son was diagnosed with a brain tumour in 2005 aged 12.
"Research into childhood brain cancers such as medulloblastoma and ependymoma can make so much difference for families," Mr Brunoli said.
"Each individual donor may only give a small amount but when it is all put together, this funding can make real change to treatments, and improve the outcomes for children with brain cancer," Mr Brunoli said.