Applications are now open for the IMB Research Advancement Award, offering brilliant prospective PhD students the opportunity to secure a $30,000 top-up scholarship to support their studies at IMB.
The award encourages talented domestic students from Australia and New Zealand with a passion for science the opportunity to kick-start their careers at a world-class life sciences research institute.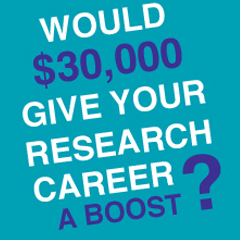 Applications are sought from students who demonstrate:
Excellence in academic achievement
A passion for scientific research
Independence and leadership potential
Ability to communicate a love of science
Applications must be emailed to postgrad-office@imb.uq.edu.au by 5pm on 5 September 2016.
For full details and to download an application form, visit the website.
Meet our previous IMB Research Advancement Award winners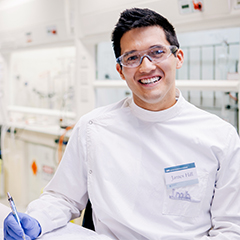 "Being a chemist at the IMB is fantastic. I find it rewarding to see biologists using my compounds for their experiments. Furthermore, I have the support of a vast array of experienced researchers, allowing me to broaden my skills in a range of areas. I find the institute provides the right environment to motivate me, and it provides all the resources I need to maximise my research potential." 
~ James, PhD student, IMB Science Ambassador and IMB Research Advancement Award winner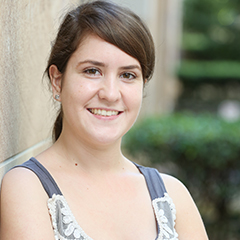 "I was drawn to the IMB by its world class reputation and facilities; but since being here have been most impressed by the collaboration and sense of camaraderie not just across my floor but the entire building. It has been fantastic to meet and work with such talented and friendly people, and I feel particularly privileged to listen to presentations from inspiring speakers at the forefront of their fields. I have really enjoyed learning a whole host of new skills both in the laboratory and beyond, and look forward to the opportunity of travelling to my first conference later this year."
~ Claudia, PhD student, IMB Science Ambassador and IMB Research Advancement Award winner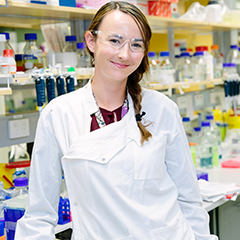 "IMB is a great place to be a student with a range of professional development opportunities available, a collegial lab environment, and an active student association." 
~ Emma, PhD student, IMB Science Ambassador and IMB Research Advancement Award winner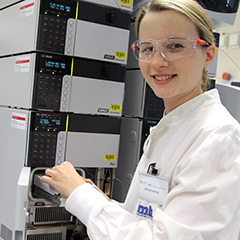 "After completing my undergraduate research projects and honours year at the IMB it was a natural progression to move into a PhD within the institute. The IMB houses many impressive facilities including UQROCX, the University's crystallisation facility, and an abundance of knowledge and experience in the talented people who work here. There is also a fantastic support network in the postgraduate team, who are there to help you through your studies, and the Students of the IMB Association (also known as SIMBA). Working in the IMB has offered me a great start to my career in scientific research and I feel very privileged to have spent 4 years in this wonderful institute."
~ Emily, PhD student, IMB Science Ambassador and IMB Research Advancement Award winner