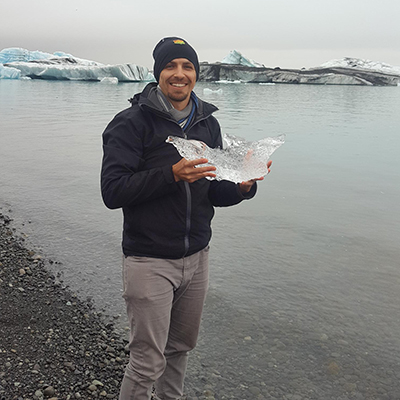 Could you tell us about your work background and what you were doing before you came to IMB?
After working in visual neuroscience, I moved to a research support position at QBI in 2009 within the Safety and Scientific Services team. The Institute has grown from strength to strength along with the other Bioscience Precinct Institutes here at UQ, with the number of workers doubling and new laboratory, office and clinical spaces regularly being commissioned. I have gained a strong background in scientific support for the diverse research requirements within the biosciences and managing research facilities. Examples of my current projects include the update of Virus Surgery facility procedures after a room expansion and the assessment of inhalable anaesthetic set ups, developing custom solutions for nose cone delivery and induction.
What aspects of your role do you enjoy the most?
The diversity of tasks and challenges that are presented. I have a staunch belief in scientific research and effectively working in a support role like mine means that I need to learn about each group's research so I can assist in best meeting their requirements. There aren't many days you don't expand on your knowledge.
When you're not at work, what do you like to do in your spare time? 
I'm an avid sports fan. I play badminton and cricket on a weekly basis, but I'm pretty much up for any sport. I support Liverpool in the English Premier League (which is less embarrassing now than it has been for almost the last three decades).
What can't you live without? 
Guess I shouldn't say 'sport' here too (although I do get sad without a bit of healthy competition). I'm also loathe to say 'caffeine', as that is just an addiction. Let's go with 'good food', which is both literal and I really get a lot of satisfaction out of cooking and eating a good meal.
Tell us something about yourself that may surprise us?
My surname is Hungarian, I'm born and bred in South East Queensland but I'm actually quite proficient in speaking Swedish. This is owing to my family-in-law and the 4 months long service leave I spent in Sweden in 2017. So 'hej till alla svenska på IMB' and no, not all of the IKEA product names make sense!
What are you looking forward to most about your role here at IMB?
The challenge of filling Kristie's shoes and working with a great new team of people. I look forward to learning from them and from a whole new group of amazing researchers. Very cliché I know, but I intend to make the most out of my time at the Institute and hopefully leave a positive footprint. Also, I've been up to the IMB terrace before and recall there was a ping pong table. With any luck I'll get a chance to take a few of you on.