Spotlight on: Montanna Wright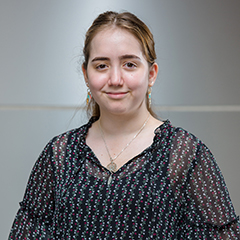 Could you tell us about your work background and what you were doing before you came to IMB?
Before I started working here at IMB, I was mostly focused on my studies outside of school. And doing commissions of artwork for people. I enjoyed these graphic design jobs since I like to design and be creative.
What aspects of your role do you enjoy the most?
What I like is the fact that I'm able to use the skills I've developed over the years, while watching them grow to the potential this current position offers. I love taking on new tasks to further my knowledge of a program or help out on events that take place in IMB. I find using Adobe programs to be quite relaxing.
When you're not at work, what do you like to do in your spare time? 
I love to spend time at home with my pets. They're always a blast to come home to! I also love to use my time to listen to music and draw.
What can't you live without? 
My pets. Especially my two cats - Kenma and Akira.
Tell us something about yourself that may surprise us?
One of my childhood dreams was to become a veterinarian. And I still believe in that future!
What are you looking forward to most about your role here at IMB?
I'm looking forward to gaining new skills - I'm learning new things everyday! I would love to know more about IMB in general, since this place sparks me into learning a lot more about the research being conducted here.