Soils for Science Partners are organisations (ie schools, colleges, farms, companies and local councils) interested in working with UQ to achieve our Soils for Science citizen science goals to sample soils from across Australia, to fast-track the discovery of next-generation antibiotics.
To be eligible to be a Soils for Science Partner an organisation must have a valid ABN/ACN.
Becoming a Soils for Science Partner
Please email us: soilsforscience@uq.edu.au and request a copy of the Soils for Science Partner Agreement and instructions on how to proceed. Once you read, agree, sign, and return the document we will review, countersign, and provide you with an executed copy of the agreement. On receiving your executed agreement your organisation is now a Soils for Science Partner.
Benefits for Soils for Science Partners
Cross Promotion: Soils for Science Partners will receive media resources from UQ that they can use to promote their involvement in Soils for Science. Likewise, Soils for Science Partners can provide UQ with media resources that we can use to promote partner involvement on the Soils for Science website and in presentations, social media posts etc.
Special Kits: We will work with Soils for Science Partners to understand their needs and will design and supply purpose-built soil sampling kits ranging from 100 to 500 sample bags.
Education and Presentations: Where appropriate we will work with partners to provide online and/or in person presentations to their staff, students, members, to explain the aims of Soils for Science, and the need to develop new antibiotics.
Responsibilities of a Soils for Science Partner
Soils for Science Partners agree to the terms and conditions outlined in the Soils for Science Agreement, which include following the instructions provided with soil sampling kits, to collect more than 100 soils, and to register these in the Soils for Science app prior to returning them to UQ.
Feature Partner: Muresk Institute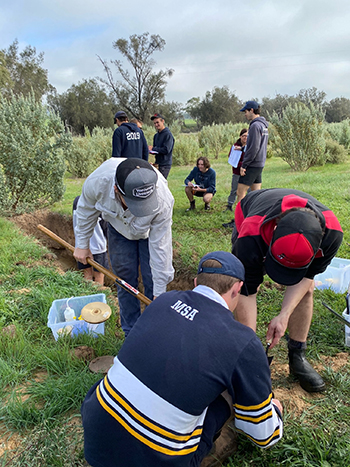 Located on a working farm around 90km east of Perth in the West Australian wheatbelt, Muresk Institute is the newest Soils for Science partner.

Muresk Institute was inspired to join the Soils for Science Program after seeing the impact of soil microbe research. 

"We didn't realise the impact microbes had in modern medicine and we felt the urgency to support this research in any way possible. 

"Previously, we did our own soil sampling throughout the farm, but the importance of microbes in the soil never occurred to us and how these living organisms have more benefits then just assisting in crop and pasture production. 

"It really opened our eyes to see that something we typically thought of as an aid in the cultivation of crops and pastures was also the key to saving millions of lives." 

Many who attend Muresk Institute and come from farming backgrounds tend to look at soil as the vital component for many agricultural systems. But we can now see it for much more  – a vital component in the future of lifesaving medicine." 
Thank you to our current Soils for Science Partners