Scholarship opportunities
UQ Graduate School Scholarship (UQGSS)
The UQ Graduate School Scholarship is the most common scholarship applied for when planning to undertake a Phd. Most PhD's at UQ are funded via the UQ Graduate School Scholarship. For more information on eligibility and how to apply, please visit the UQ Graduate School.
*Please note, currently the UQ Graduate School Scholarship is only available to Domestic candidates. International applicants are still elligible for Earmarked PhD projects (and accompanying Earmarked Scholarship).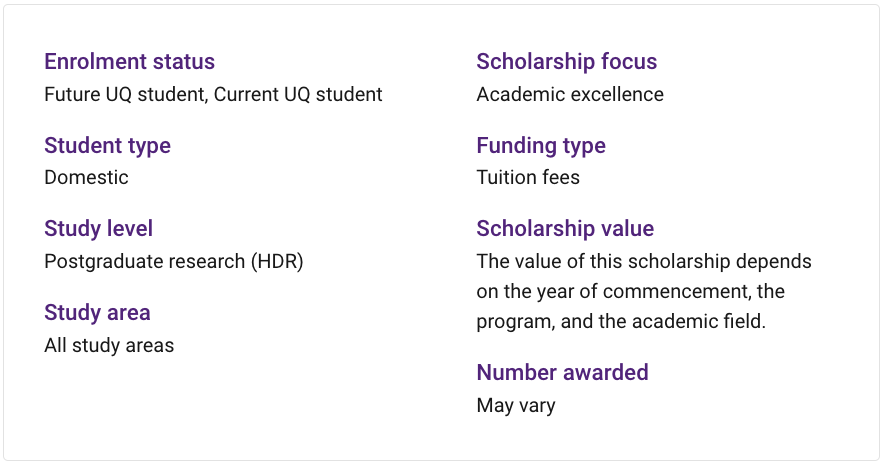 IMB Global Challenges Scholarship
The Global Challenges PhD Scholarship offers a per annum top up to the UQ Graduate School Scholarship plus $5,000 support for a placement on top of the $2,000 Student Development fund (over the period of the candidature) to outstanding domestic and eligible international onshore applicants.
The PhD projects on offer will give each student the opportunity to take a deep dive into a specialised topic and research discipline in one laboratory and within our broad-ranging approach. Each project will provide the rich foundational research training gained by completing a PhD and an opportunity to make a unique contribution to the field of knowledge. By conducting these projects within a cohort of other students, also aiming to broadly address the identified themes, the collective will form an intellectual hub, together, solving these global challenges. 
Importantly, the scholarship includes specialised training in each theme and cutting-edge research techniques, tailored transferable skills training and support to conduct a placement nationally or internationally with a related partner. Collectively, these will form four pillars of support for the research project and create job-ready graduates with links to the national and international research, entrepreneurial and industry community. 
The IMB Global Challenges Scholarship is open only to Domestic candidates and those Onshore International Students who have completed a program at UQ in 2023. Applicants must be onshore at the time that offers are issued.
To qualify for a Global Challenges Scholarship, you must
Apply for a participating 

PhD Projec

t 

(marked with an asterisk).

Submit your PhD application before 24 September 2023
In your application, ensure you:
Select 'My higher degree is not collaborative'

Select 'I am applying for, or have been awarded a scholarship or sponsorship'.

Select 'Other', then add '

IMB Global Challenges + identified theme'
Please note, there are conditions for undertaking this scholarship. Refer to details below.
---
Scholarship conditions
If awarded the Global Challenges Scholarship, there are a few conditions that must be met in order to receive funding. These include:
Conducting a cross-disciplinary project that is targeted at solving a global problem within one of the themes of – Drug Discovery, Chronic Disease, Superbug Solutions and Population and Disease Genomics. All projects that qualify for the Global Challenges Scholarship are marked with an asterisk.

Conducting a project that is multidisciplinary, with an advisory group that is composed of at least one Associate advisor in a different IMB Centre (or UQ institute/school) to the principal advisor

Conducting a placement with an external partner - arranged by you in collaboration with The University of Queensland Graduate School within the first 18 months of commencement, the placement can take place at any time during the candidature but is normally undertaken towards the end of the PhD. The extension of your candidature period from 3.5 years to 4 years is conditional on undertaking a placement.

Being an IMB ambassador - both to promote the scholarship and IMB generally.

Being an active participant in SIMBA and mentoring junior scholarship holders

Full participation in internal IMB training events for PhD students:

First Year:

Training Week (May 2024)

Technical training Masterclass (May 2024)

PhD student retreat (June 2024)

Second Year:

Industry engagement training and event 

UniQuest commercialisation workshop

Third year:

Career development workshops, alumni mentorship programs and career panelopportunities
* Please note, the scholarship duration is 3.5 years guaranteed plus 0.5 years conditional on completing training and a placement. Please know that further activities that build your cohort and enrich your PhD experience will be advised over the period of your candidature and your attendance will be required.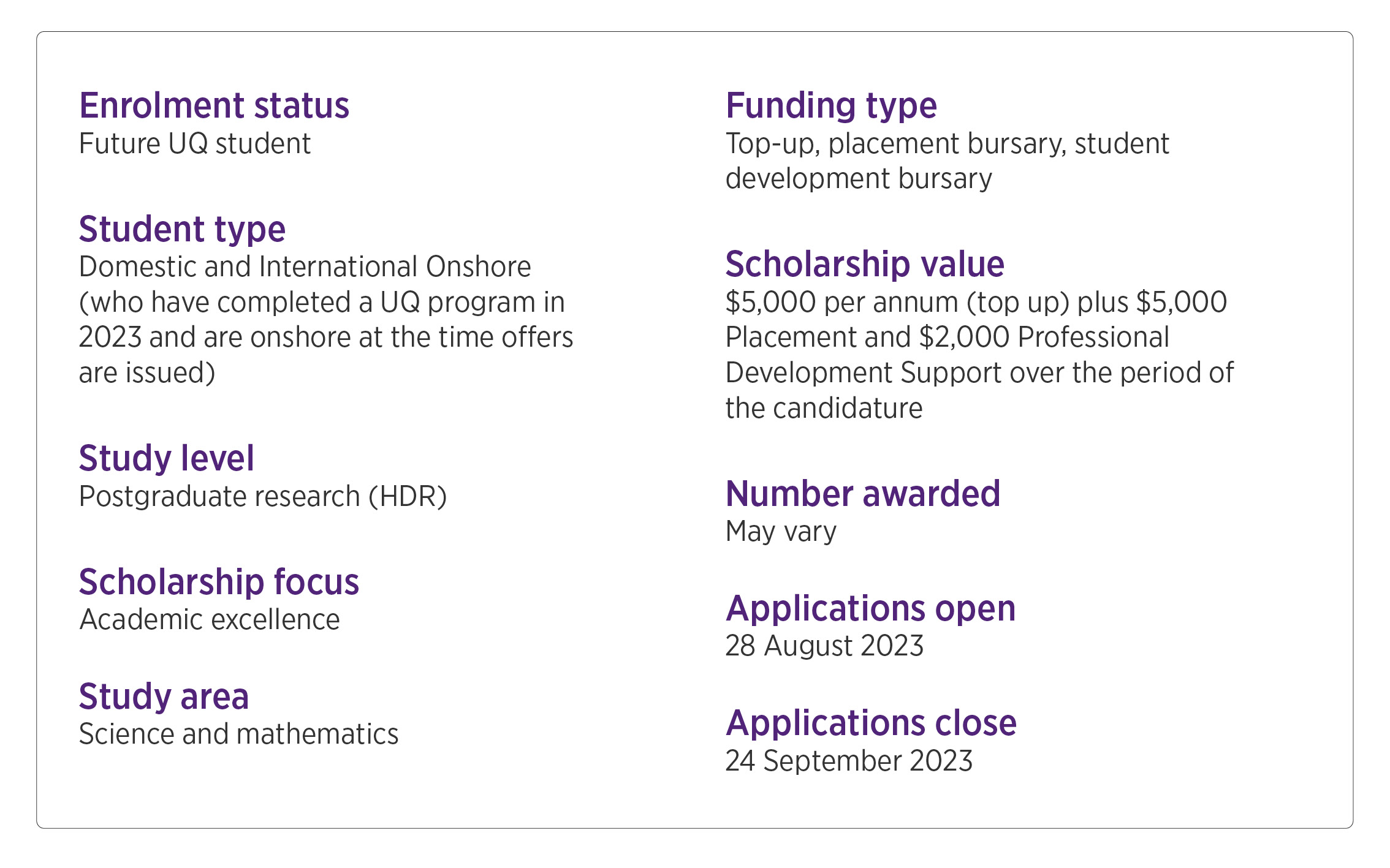 Earmarked Scholarships
Earmarked scholarships are offered for research projects aligned with recently awarded grants from major Australian Government research funding bodies, including the Australian Research Council, the National Health and Medical Research Council and the Medical Research Future Fund.
Earmarked scholarships offer PhD students the opportunity to contribute to large projects of national significance and work with leading researchers. The scholarship provides a living stipend of $32,192 per annum (2023 rate, indexed annually), tuition fees, and Overseas Student Health Cover (OSHC). You can apply anytime - there is no closing date.
IMB Earmarked Scholarships are added to the PhD Projects list as they become available. Sign up to study alerts to be notified of any new opportunities. For more information on Earmarked Scholarships and how to apply, please visit the UQ Graduate School website.
* Please note, Domestic and International candidates may apply for an Earmarked PhD project and accompanying Earmarked Scholarship.