Scholarship opportunities
UQ Graduate School Scholarship (UQGSS)
The UQ Graduate School Scholarship is the most common scholarship applied for when planning to undertake a Phd. Most PhD's at UQ are funded via the UQ Graduate School Scholarship. For more information on eligibility and how to apply, please visit the UQ Graduate School.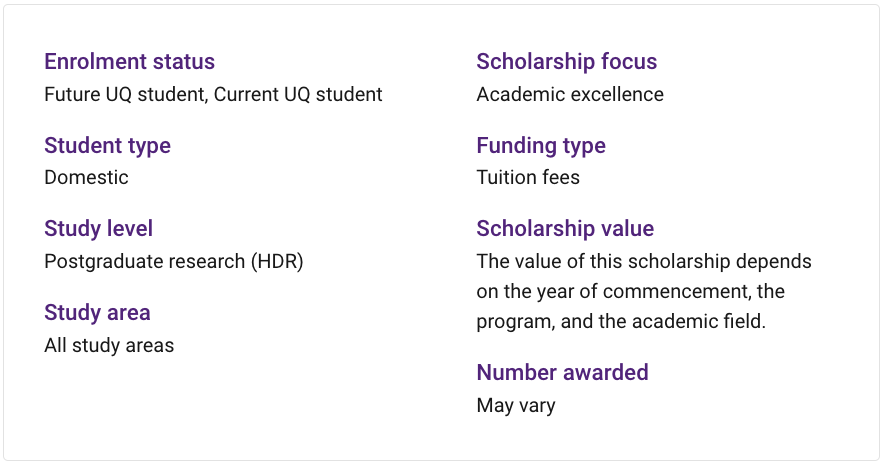 IMB Global Challenges Scholarship
The Global Challenges PhD Scholarship offers a four-year living stipend of $37,500 per annum plus $5,000 support for a placement on top of the $2,000 Student Development fund (over the period of the candidature) to outstanding domestic and international candidates.
The PhD projects on offer will give each student the opportunity to take a deep dive into a specialised topic and research discipline in one laboratory and within our broad-ranging approach. Each project will provide the rich foundational research training gained by completing a PhD and an opportunity to make a unique contribution to the field of knowledge. By conducting these projects within a cohort of other students, also aiming to broadly address the identified themes, the collective will form an intellectual hub, together, solving these global challenges. 
Importantly, the scholarship includes specialised training in each theme and cutting-edge research techniques, tailored transferable skills training and support to conduct a placement nationally or internationally with a related partner. Collectively, these will form four pillars of support for the research project and create job-ready graduates with links to the national and international research, entrepreneurial and industry community. 
To qualify for a Global Challenges Scholarship, you must apply for a participating PhD Project (marked with an asterisk). Ensure you apply for your PhD before the following dates and are available for a Zoom Information Session.
International (offshore) candidates:
This application round is open to International candidates that do not currently reside in Australia and/or have not yet studied or worked in Australia.
Attend the Global Challenges Scholarship Zoom Information Session on 12 June 2023
Apply for a PhD anytime before 17 July 2023
Domestic & International (onshore) candidates:
This application round is open only to Domestic candidates and International candidates that are currently onshore in Australia and can provide evidence of an Australian degree or current work.
Attend the Global Challenges Scholarship Zoom Information Session on 14 August 2023
Apply for a PhD anytime before 25 September 2023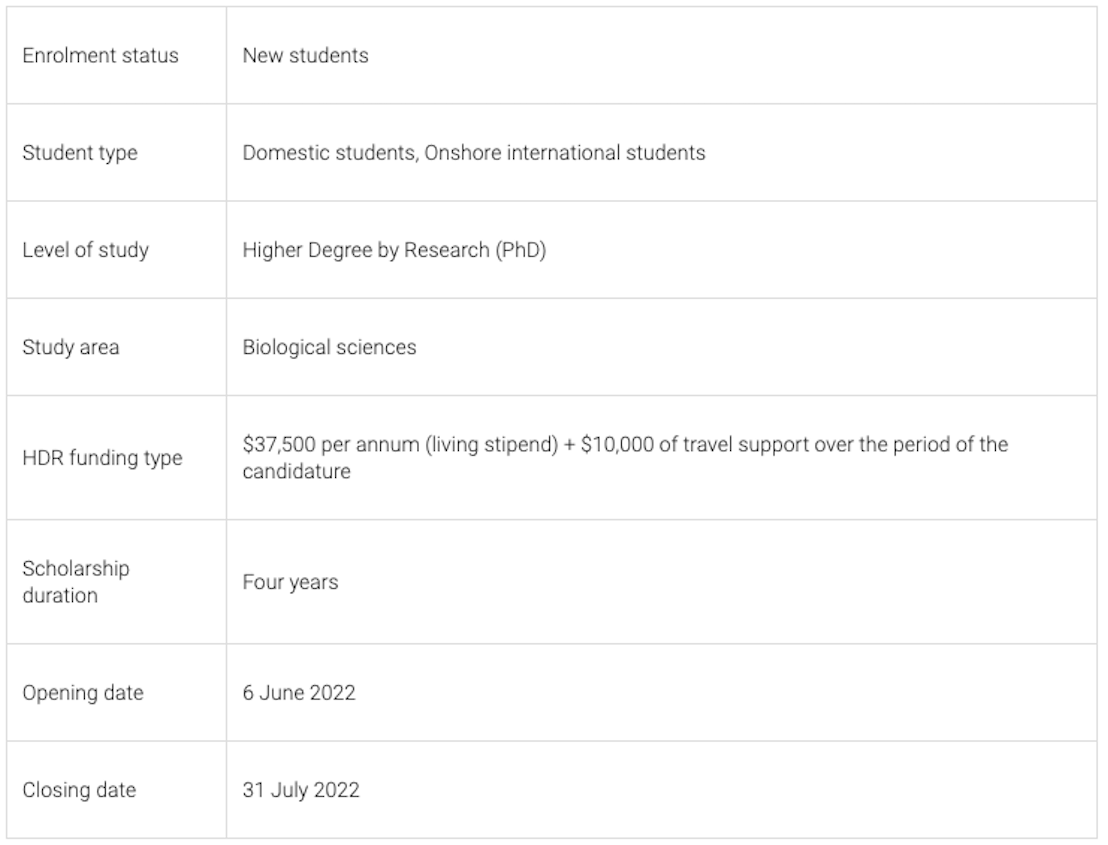 * Please note, the scholarship duration is 3.5 years guaranteed plus 0.5 years conditional on completing training and a placement.
Scholarship conditions
If awarded the Global Challenges Scholarship, there are a few conditions that must be met in order to receive funding. These include:
Must attend training and workshops
Must complete a placement
Earmarked Scholarships
Earmarked scholarships are funded by the Australian Government to assist PhD students with their living costs and tuition fees. These scholarships are offered for research projects aligned with recently awarded Category 1 research grants and offer PhD students the opportunity to contribute to large projects of national significance and work with leading researchers. The scholarship provides a living stipend of $32,192 per annum (2023 rate, indexed annually), tuition fees, and Overseas Student Health Cover (OSHC). You can apply anytime - there is no closing date.
IMB Earmarked Scholarships are added to the PhD Projects list as they become available. Sign up to study alerts to be notified of any new opportunities. For more information on Earmarked Scholarships and how to apply, please visit the UQ Graduate School website.