Inflammasomes: mediators of immune defence but culprits in inflammatory disease
During injury or infection, our body's immune system protects us by launching inflammation.
But uncontrolled inflammation drives diseases such as gout, diabetes, neurodegenerative disease and cancer.
The Inflammasome Lab is defining the molecular and cellular processes of inflammation.
We seek to unravel the secrets of inflammasomes – protein complexes at the heart of inflammation and disease – to allow for new therapies to fight human diseases. 

Group leader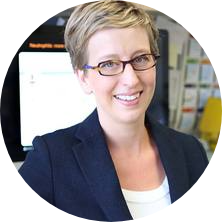 Professor Kate Schroder
Group Leader, Inflammasomes: mediators of immune defence but culprits in inflammatory disease
  +61 7 3346 2058  
  k.schroder@uq.edu.au
  IMB Researcher Profile
  Centre for Inflammation and Disease Research
Inflammasome and caspase activation mechanisms and cellular programs.
Inflammasomes activate caspase family proteases, and thereby trigger caspase-dependent cellular programs, such as cytokine maturation and secretion, pyroptotic cell death and apoptotic cell death. We aim to understand precisely how inflammasomes control the activity of caspases, and the proteolytic cascades that control cellular programs such as unconventional protein secretion.
Inflammasome inhibition by cellular pathways and small molecules.
Inflammasomes are potent drivers of inflammatory responses, and are thus important for microbial clearance. But uncontrolled or inappropriate inflammatory responses are responsible for a wide variety of human diseases (e.g. septic shock, gout, diabetes, neurodegenerative diseases, various cancers). We are characterising cellular mechanisms of inflammasome inhibition, of key importance to maintaining human health. We are also characterising new pharmacological approaches for inflammasome inhibition, with broad potential for the treatment of human inflammatory and neurodegenerative diseases.
Inflammasome function in neutrophils.
Neutrophils are innate immune cells with key functions in antimicrobial host defence, but their ability to signal via pattern recognition receptor pathways is poorly characterised. We are characterising new roles for neutrophils in inflammasome signalling in vivo, and seek to understand how cell identity shapes neutrophil immune signalling pathways.
Host-pathogen interactions.
The inflammasome pathway is an important part of the host defence response to infection, and so microbes have evolved various mechanisms to evade this response. We are defining how inflammasomes detect microbes, and the microbial strategies employed to avoid this antimicrobial response.
Inflammasome function in humans.
Immunological research often uses the laboratory mouse to understand human disease. Inflammasome research is no exception, and previous studies in mice have revealed important mechanisms of immune signalling. But the immune responses of humans and mice are not identical, in part because of gene differences between these species. Recent technological advances (e.g. CRISPR/Cas9 gene editing) give us unprecedented precision in approaches for characterising inflammasome signalling in human cells.
Research title: Inflammasomes in infection and inflammatory disease
Summary of research interests: The innate immune system is critical to defence against infection, but also drives unhealthy processes in inflammatory disease. An important emerging player in innate immunity is the 'inflammasome' pathway. Inflammasomes are molecular machines that trigger cytokine maturation and immune system activation in response to signals indicating cellular 'danger'. While the inflammasome pathway is critical for host defence against infection, it is also a key driver of unhealthy inflammation in many human diseases. We use a wide variety of molecular and cell biology techniques, in conjunction with animal models and human clinical samples, to investigate the biology of inflammasomes in host defence and inflammatory disease at the molecular, cellular and organismal levels.
Traineeships, honours and PhD projects include
Inflammasome activation mechanisms
Human-specific inflammasome and caspase pathways
Pathogenic inflammasome function in human diseases
Inflammasome inhibition by small molecule drugs and cellular pathways
Neutrophil inflammasome function during infection and disease.
Contact: Professor Kate Schroder
+61 7 3346 2058
k.schroder@uq.edu.au
---
Find out more about Research Training at IMB:
Our research focuses on understanding how immune cells launch healthy inflammation to fight infection and unhealthy inflammation to promote disease. By understanding exactly how the body fights infection, we can help identify new drug targets or vaccines to combat infectious disease, which causes 13 million deaths globally each year. By understanding how unhealthy inflammation is initiated, we can design new strategies for the treatment of common inflammatory and neurodegenerative diseases. For example, our recent multidisciplinary collaborations developed new small molecule inhibitors of the inflammasome, that are currently under commercialisation as novel anti-inflammatory compounds.
We collaborate nationally and internationally, and across research fields.
Major collaborators include:
Prof Matthew Sweet (innate immunity, IMB)
Prof Jenny Stow (cell biology, IMB)
Prof Alpha Yap (epithelial defence, IMB)
Prof Matthew Cooper (anti-inflammatory drug design, IMB)
Prof Ben Hankamer (structural biology, IMB)
Assoc Prof Trent Woodruff (neurodegenerative disease, The University of Queensland)
Assoc Prof Katryn Stacey (inflammasomes and cell death, The University of Queensland)
Dr James Vince (cell death, The Walter and Eliza Hall Institute)
Dr Seth Masters (auto-inflammatory diseases, The Walter and Eliza Hall Institute)
Prof Geoff Farrell (liver disease, The Canberra Hospital)
Prof Vojo Deretic (autophagy, University of New Mexico)
Dr Jelena Bezbradica (sterile inflammation, University of Oxford)
Prof Luke O'Neill (inflammatory signalling, Trinity College Dublin).