The IMB Inflazome Translational Award recognises an outstanding IMB researcher working on a project with translational potential. The Award provides $125,000 over one year to accelerate the winner's translational research to enable future competitive funding success, commercialisation or community impact.
The award is funded by royalties from the sale of IMB spin-out company Inflazome Pty Ltd, which was sold to Roche Pharmaceuticals in the biggest biotech deal in Australian history in 2020.
Finalists for the award pitch for the funding in a Shark Tank-style competition at our annual Research Engagement Dinner. 
Congratulations to our 2023 Award winner

Professor Kate Schroder | Climbing new frontiers to treat airway diseases 
Do you take breathing for granted? In severe COVID19, influenza and asthma attacks, patients struggle to breathe because their lungs are inflamed and battling a virus. This is frightening, dangerous, and difficult to treat as current anti-inflammatory drugs offer limited benefit. We are developing a new class of drug – that precisely blocks a protein called NLRP1 – to revolutionise the treatment of virus-induced airway diseases. Upon encountering a virus, NLRP1 launches dangerous inflammation. We will assess NLRP1 activity in human disease tissue to provide proof-of-concept that patients with acute and chronic airway diseases will benefit from our exciting first-in-class drug candidate.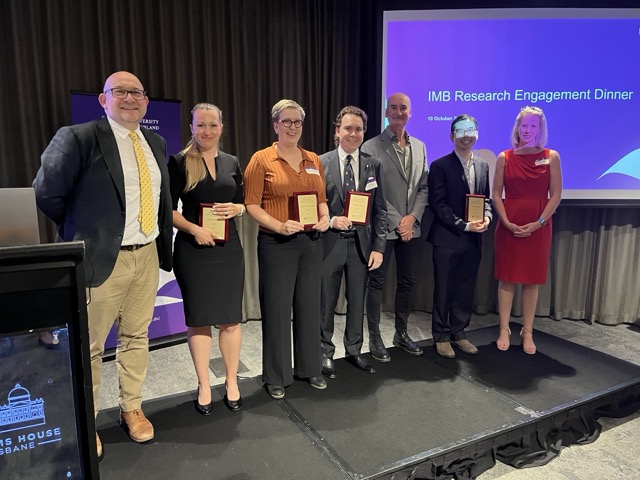 IMB Inflazome Translational Award Finalists

Dr Harrison Madge | A paradigm shift in treating gut disorders
Inflammatory bowel diseases (IBD) and irritable bowel syndrome (IBS) are gastrointestinal disorders affecting 10-15% of the population. In a recent clinical study, we linked bacterial biofilm presence with IBS and IBD symptoms, a discovery that could revolutionise how we treat and diagnose these diseases. With no antibiofilm therapies available, this project focuses on (i) establishing a patient-derived gut-biofilm mouse model, (ii) optimising our antibiofilm drug leads, and (iii) evaluating them in vivo. Anticipated outcomes include the first gut-biofilm mouse model worldwide, patentable first-in-class drug leads, and engagement with industry/investors to drive translation in an area with unmet medical need.
---
Dr Hana Starobova | CAN04: We CAN treat neuropathic pain  
Annually 10 million cancer patients worldwide develop neuropathic pain (nerve pain) caused by their cancer therapy that is not treatable with commercial painkillers. These patients struggle with pain in the whole body and low quality of life. In this project, we will use the unique expertise of our team in preclinical research to understand how CAN04, an anti-cancer antibody developed by pharmaceutical company Cantargia, prevents neuropathic pain. Combined with our close relationships and collaborations with Cantargia and world-leading oncologists, we will repurpose CAN04 for the treatment of neuropathic pain.
---
Dr Conan Wang | The right treatment depends on the right diagnosis 
Our overall aim is to develop patient-friendly diagnostics for cancer patients to enable rapid and decisive clinical decisions for precision medicine. This project aims to develop molecular imaging agents for accurate whole-body visualisation of druggable tumour targets, enabling clinicians to 'see' where tumours are in the body and decide on the proper treatment. This will replace in-use core needle biopsies which are erroneous and painful. With exciting proof-of-concept data in hand, we seek support to enable downstream engagement with an industry partner already identified.
Past Inflazome Translational Award winners

2022: Dr Melanie Oey | Improving wound healing using photosynthetic light
Wound care is a global problem which costs billions of dollars each year. The aging population and increase in chronic disease patients has led to the increasing occurrence of chronic wounds, fueled by poor blood circulation. Oxygen is essential for all wound healing processes, but hyperbaric chamber treatments are seldom used because they are expensive and logistically challenging. I propose to use photosynthetic single cellular algae (microalgae) to develop simple, cheap, "off-the-shelf" wound dressings that continuously supply oxygen. They have the benefits of being antimicrobial, anti-inflammatory, anti-itch and non-stick, support wet wound healing and require infrequent dressing-changes. Algae can provide effective wound healing at the fraction of the cost of current therapies.