The IMB Inflazome Translational Award recognises an outstanding IMB researcher working on a project with translational potential. The Award provides $125,000 over one year to accelerate the winner's translational research to enable future competitive funding success, commercialisation or community impact.
The award is funded by royalties from the sale of IMB spin-out company Inflazome Pty Ltd, which was sold to Roche Pharmaceuticals in the biggest biotech deal in Australian history in 2020.
Finalists for the award pitch for the funding in a Shark Tank-style competition at our annual Research Engagement Dinner. 
Congratulations to our 2022 Award winner
Dr Melanie Oey - Improving wound healing using photosynthetic light
Wound care is a global problem which costs billions of dollars each year. The aging population and increase in chronic disease patients has led to the increasing occurrence of chronic wounds, fueled by poor blood circulation. Oxygen is essential for all wound healing processes, but hyperbaric chamber treatments are seldom used because they are expensive and logistically challenging. I propose to use photosynthetic single cellular algae (microalgae) to develop simple, cheap, "off-the-shelf" wound dressings that continuously supply oxygen. They have the benefits of being antimicrobial, anti-inflammatory, anti-itch and non-stick, supporting wet wound healing and requiring infrequent dressing-changes. Algae can provide effective wound healing at the fraction of the cost of current therapies.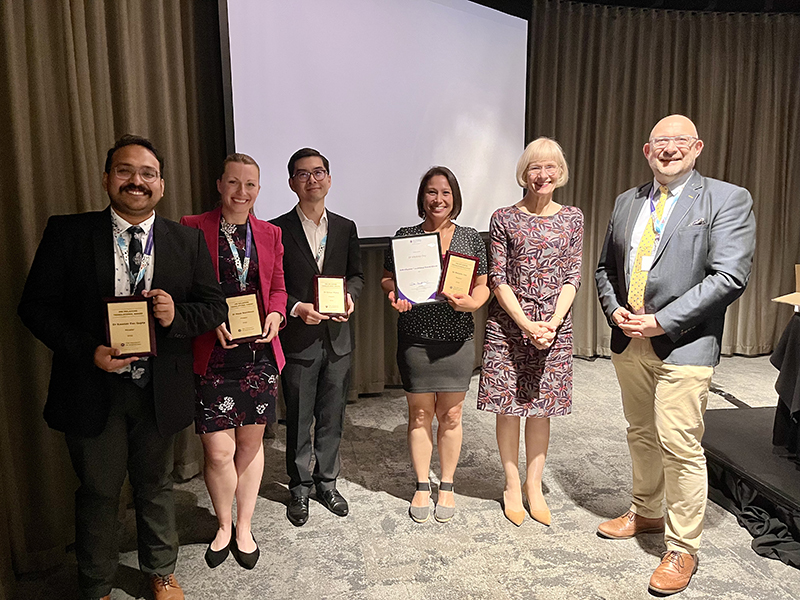 Congratulations to our 2022 Award finalists
Dr Kaustav Das Gupta - A sweet fix for inflammatory and infectious disease
Immune cells are culprits in both inflammatory and infectious diseases. Chronic diseases driven by inflammation account for 6 of the top ten causes of death, with an annual burden of over $90 billion worldwide, and with the rise of antibiotic-resistant bacterial infections, simple infections are also becoming life-threatening. I have discovered a biproduct of a biochemical pathway in immune cells called macrophages that blocks inflammation and kills bacteria. I want to exploit the mRNA technology, used during the COVID pandemic to make vaccines, to deliver mRNA and metabolites into macrophages to limit inflammation. Winning this award would enable me to target both bacterial infections and inflammation, addressing the top ten causes of death worldwide.
Dr Hana Starobova - Nadunolimab: new treatment for cancer therapy-induced pain
Annually 10 million patients worldwide develop cancer therapy-induced pain that is not treatable with commercial painkillers. These patients struggle with pain, severe disabilities, and low quality-of-life. Treating cancer and the associated pain has an estimated $4.5 billion per annum impact on the Australian economy. In this project we will draw on our expertise with sophisticated preclinical models of pain to determine the efficacy of Nadunolimab, an anti-cancer antibody developed by Cantargia. These studies are crucial for the design of clinical trials permitting the rapid translation of Nadunolimab as a new non-addictive pain treatment transforming clinical practice and the global $80 billion painkiller market.
Dr Conan Wang - Taking the pain out of cancer diagnosis
Immunotherapy has revolutionised cancer medicine, showing the body's immune system can be reawakened to eradicate cancer, as underscored by a market value reaching $140 billion by 2030. Currently, painful core needle biopsies are required to predict whether a patient will respond to treatment because only a minority do, and results vary greatly between each biopsied tissue. We have developed a targeted peptide drug that can painlessly and instantly 'paint' only cancerous tissues throughout the whole body, enabling rapid clinical decisions on the proper treatment for survival. We have a global industry partner ready to commercialise our patented drug lead.