What did you study in your undergraduate degree?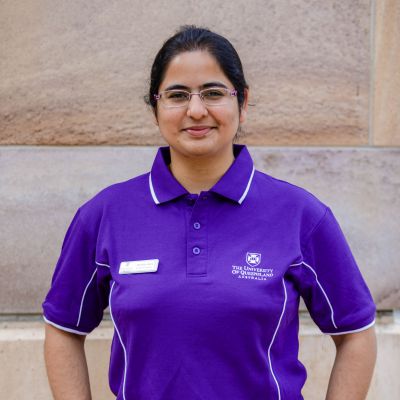 Bachelor of Engineering (Honours) in Biotechnology.
Why did you choose IMB to undertake your research? 
The reputation of IMB (known to be a renowned research institute), my interest in Molecular Biology particularly the area of research of my lab (Cancer and Cell Signalling), my lab group Supervisors and colleagues (Brandon Wainwright group), the topic of my research project (brain cancer, drug trials, preclinical/mouse models), my previous experience of a short project in the same lab during my Master's program at UQ St. Lucia, location of IMB on UQ campus (beautiful campus, equipped with leisure and utility facilities), in sunny Brisbane. :)
Do you have any tips for future students interested in life sciences research?
Just general advice - organisation, time management, passion for your field, hard-work, developing skills to be a confident and independent researcher, taking ownership of your project, a healthy lifestyle (diet, exercise, mental health, sleep) - are super important. It's also good to have a hobby, or a side-something, in your life other than study and research.
What research are you currently working on?
My current research is in the field of paediatric brain cancer, specifically, medulloblastoma, a cancer of the cerebellum of the brain. Current therapies include surgery, radiation and chemotherapy and have debilitating side effects on the quality of life of children with medulloblastoma. I am examining the efficacy of an 'alternative' chemotherapy drug, namely Ixabepilone, in mouse models of medulloblastoma. Ixabepilone is already FDA-approved for breast cancer and I am 're-purposing' it for brain cancer. Ixabepilone belongs to a class of compounds called epothilones which are said to possess superior qualities over current chemotherapy drugs like Vincristine in penetrating the brain and the tumour core to exert their therapeutic effects. In my project, I inject tumour cells, derived from patients in the clinic, into mice, allow the tumour to grow to a specific size/score and test the drug in terms of tumour size/score, mouse weights and general mouse health, following which I harvest mouse tissue/organ samples and conduct further analysis on them. Ultimately, if my drug trials and analyses are 'successful', it will provide an 'alternative' treatment possibility for children suffering from brain cancer.
What interested you in joining the IMB Science Ambassador Program?
Previous ambassador, Dr Marija Kojic's positive experience. The skills I will learn from this program - leadership, confidence, interaction with younger students, peers, donors and other members in the scientific community, event management, professional networking. Importantly, the feeling of accomplishment and involvement when you are a part of the institute's process.
What do you enjoy doing out of free time?
Watching movies, listening to music, catching up with friends and family, attend different kinds of events in the city, nature walks/hikes, going to the beach.