The Viral Vector Core (UQ-VVC) is a University of Queensland service initiative to assist UQ researchers in the production of quality viral vectors to maximise research success. As part of the core facility, the Lentiviral node offers lentiviral particle production and consulting service utilizing our optimized protocols and workflows which generates ready-to-use lentiviral particle concentrates with typical titers of ≥ 108 transducing unit per ml (TU/ml) (see schematic below for examples).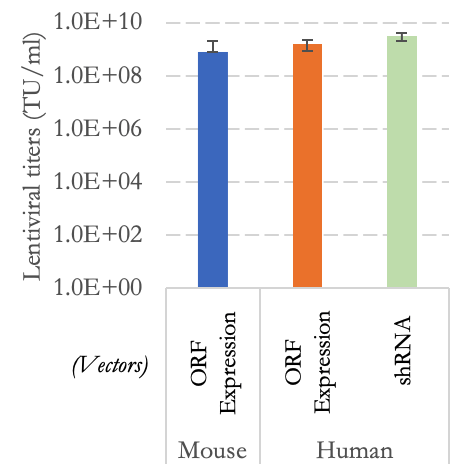 Average volume of concentrated viral supernatant is 300-400 µl; titer determination was performed with mouse fibroblasts.
To achieve high titers of 108 – 109 TU/ml:
Lentiviral cargo/insert between LTRs should not exceed 7.5 kb.
Vectors should not express genes detrimental to the 293T viral producer cells.
We also consult in selection of optimal vector design and vector generation.
Contact
Please note that our services are currently exclusive for the UQ community. Contact us for more information (including a flier with our pricing estimates) or fill out EOI. We look forward to assisting your research needs!