New insights on the activity of the antimalarial drug proguanil
The World Health Organization estimates there were more than 200 million new cases and more than 400,000 deaths due to malaria in 2017. While this represents a significant decline in morbidity and mortality over the past decade, there is no broadly effective malaria vaccine and current antimalarials are under threat due to parasite drug resistance. With ~3.2 billion people at risk of malaria and a global agenda focused on eradication, there is an urgent need to develop new drugs with novel modes of action and to ensure that current drugs are effectively used. As part of our drug discovery program, we have gained new insights on the antimalarial proguanil that may impact its clinical use. 

Proguanil is used in combination with atovaquone for malaria prophylaxis and treatment (as Malarone®). Atovaquone is a cytochrome bc1-inhibitor with potent anti-plasmodial activity, however the prodrug proguanil is thought to have limited intrinsic activity. In contrast, the in vivo metabolite of proguanil, cycloguanil, is a potent antiplasmodial dihydrofolate reductase inhibitor. While proguanil (rather than cycloguanil) is thought to be responsible for the synergistic activity of Malarone®, the mechanism of this interaction is not known. 

Our work shifts current paradigms around proguanil activity. We have found that proguanil, and a cyclization-blocked analogue (tBuPG), have potent, but slow-acting, in vitro activity against asexual P. falciparum parasites that is antagonistic with cycloguanil. These data suggest that Malarone® is a triple-drug combination that includes antagonistic partners. We hypothesize that a cyclization-blocked proguanil may be a better in vivo antimalarial combination partner for bc1-inhibitors like atovaquone.
Professor Kathy Andrews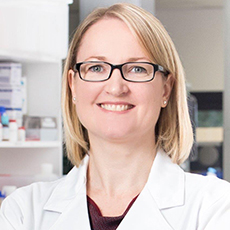 Professor Kathy Andrews is the acting Director of the Griffith Institute for Drug Discovery (GRIDD) at Griffith University, and head of the GRIDD Tropical Parasitology laboratory. Kathy has a PhD in microbiology and 20 years' experience in malaria research. She worked on malaria vaccines and pregnancy malaria at the Queensland Institute of Medical Research (QIMR) and as an Alexander von Humboldt Fellow at Heidelberg University, Germany. She returned to the QIMR in 2003 to develop a research program focused on malaria drug discovery. 

In 2008, Kathy was awarded the ASMR Queensland Premiers Award for Medical Research and in 2009 joined Griffith University as an ARC Future Fellow. In 2017, Kathy was awarded the Queensland Women in Technology Life Sciences Research Leader Award.  She has published more than 95 papers, supervised more than 20 PhD and Honours students to completion and has attracted significant research funding, including leading three current NHMRC Project grants. 

Kathy is a past Director of the Australian Society for Medical Research and past Executive Council member of the Australian Society for Parasitology. She is the founder and Director of the That's RAD! Science STEM outreach project.
Seminar hosts: Dr Christina Schroeder