Drugs and diagnostics for superbugs, viruses and cancer
Stopping the inappropriate use of antibiotics, which leads to resistance to antibiotics, by developing a diagnostic tool to identify infection.
Since the 1940s, scientists have been fighting to protect us from bacterial strains that continue to evolve.
And we're starting to lose the fight. Bacteria are developing resistance to antibiotics, our weapons against them, forcing us to find new ways to protect ourselves.
The development of antibiotics has not kept up with the rate that resistance is developing. Some bacterial strains have become so advanced that we have no way to fight them.
They're called Superbugs, and they're taking lives.
Bacterial infections kill more than 9000 Australians each year, and an estimated 700,000 worldwide.
Without intervention, these numbers are set to increase exponentially. In fact, if a highly contagious strain of bacteria were to become resistant to antibiotics there would be a frightening epidemic.
We would be plunged back into a pre-antibiotic era.
Group leader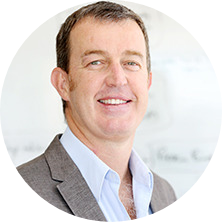 Professor Matt Cooper
Group Leader, Drugs and diagnostics for superbugs, viruses and cancer
Director, Community for Open Antimicrobial Drug Discovery
  +61 7 334 62044
  m.cooper@imb.uq.edu.au
  UQ Researcher Profile
We aim to:
Stop the inappropriate use of antibiotics, which leads to resistance to antibiotics, by developing a diagnostic tool to identify infection. The doctor can then give the right drug, the first time, in time. 
Rediscover and optimising antibiotics that were discovered in the past but not developed into drugs.
Crowdsource compounds from across the globe to uncover molecules with antimicrobial properties for the development of new antibiotics, through the Community for Open Antimicrobial Drug Discovery (CO-ADD).
Our group is defined by our commitment to our community principals. We strive to serve the community by discovering and developing better solutions for good health.  We are a diverse, multi-cultural inclusive group where each member of our team is recognised, accepted and embraced. We respond to the needs of our community and encourage a culture of helping others to promote effective communication and improve the sharing of scientific knowledge.
We continually examine and monitor progress via regular project and group meetings and annual performance reviews that provide the opportunity for everyone to communicate ideas, provide constructive feedback and advice and share positive experiences. 
The Cooper Group is a safe and respectful workplace, where each member feels secure and valued. The University of Queensland's comprehensive workplace safety policies provide an effective framework for a healthy and safe work environment. Our individuals accept responsibility and accountability for safe and respectful working practise.
New drugs against TB: Novel inhibitors of DprE1

Tuberculosis (TB), an infectious disease most commonly caused by Mycobacterium tuberculosis, claims ~ 2 million lives each year. Benzothiazinones (BTZs) target the essential M. tuberculosis cell wall building enzyme DprE1. BTZs are pro-drugs, activated in the bacterium by reduction of an essential nitro group to a nitroso derivative which then specifically reacts in the active site of DprE1, inactivating the enzyme. While this covalent mechanism imparts exquisite activity to the compounds, the required nitro group represents a liability in terms of toxicity and in vivo metabolism. Recently, the crystal structure of DprE1 was published and we aim to combine this new structural information with the extensive information available in the existing program to develop novel antitubercular compounds without the nitro group liability. This project aims to develop new lead compound classes targeting M. tuberculosis and will involve structure based design and medicinal chemistry. It will leverage the existing expertise within the group in developing in vivo active compounds targeting DprE1.

PhD in CNS active Anti-inflammatory Compounds

Interleukin 1β is a key component of the innate immune response vital for host protection against invading pathogens and aiding in cellular and tissue repair. However, IL-1β is also a potent pyrogen and dysregulation leads to a wide variety of diseases including auto inflammatory disorders. We have recently discovered a series of compounds which modulate IL-1β through targeting the NLRP3 inflammasome signalling cascade. These small heterocyclic molecules also show early signs of activity in central nervous system disorders. This project will aim to examine the full potential of the structural class in disorders of the CNS (multiple sclerosis, Alzheimer's and Parkinson's disease) while also exploring the therapeutic potential of the class as a whole through structure activity relationship and mode of action studies. Ultimately new optimised drug leads will be generated for development. This is primarily a medicinal chemistry project but is highly interdisciplinary requiring a dedicated scientist keen to expand their skills and knowledge as the project requires.

Medicinal Chemistry Development of a GPCR Receptor Agonist to Reduce Inflammation

Excessive inflammatory response results in a range of serious medical conditions. Neutrophil mobilisation is a key component of the inflammatory cascade resulting from injuries such as ischemia. A series of short peptides designed for an inflammation pathway GPCR target have recently show unexpected activity at a related GPCR that has been validated as an attractive therapeutic possibility. These peptides contain a key structural motif that is ripe for exploitation in a peptidomimetic hit-to-lead drug discovery project. Initial studies will focus on exploring the structure-activity relationship (SAR) around the active peptides, followed by a concerted effort to improve potency and drug-like properties via peptide to small molecule peptidomimetic strategies. We seek a motivated and talented student interested in medicinal chemistry, with a focus on peptidomimetic design, chemical synthesis and structural NMR willing to learn a range of techniques to drive this multidisciplinary project.
It's not just researchers and health professionals who can help prevent the spread of antibiotic-resistant bacteria. Any member of the community can help by educating themselves on the issue and taking a few small, simple steps.
The pages in this section will inform you of the background to antibiotic resistance and the issues we are facing now and in the future; answer some frequently asked questions; and provide links to further reading on the topic.